AURORA WATCH: Arctic sky watchers should be alert for Northern Lights next Wednesday and Thursday. A solar wind stream is heading for Earth and it could spark high-latitude geomagnetic storms when it arrives on or about March 12th. [gallery]
SAFIR 2: The Safir 2 rocket that launched Iran's first home-grown satellite Omid on Feb. 2nd, 2009, is tumbling around Earth and catching the attention of sky watchers as sunlight glints off its reflective surfaces. "I saw it on March 7th--it was visible to the naked eye," reports Marco Langbroek of the Netherlands. Using a Canon 450D, he photographed the rocket body passing over his home in Leiden and made a brightness profile of the flyby: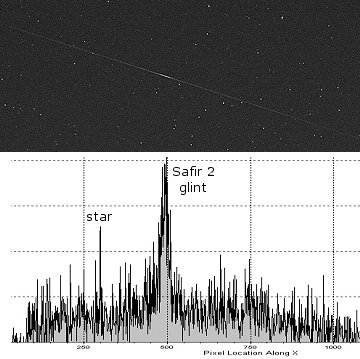 "The Safir exhibited a gradual brightness variation, slowly going between magnitude +3 and near-invisibility (magnitude > +4)," he says. "Around the moment of peak brightness, it gives a short bright glint." Langbroek measured the interval between glints: 33.25 seconds. That could be the tumble-period of the rocket body.
Readers, you may be able to see Safir 2 with your own eyes. Check Spaceweather's Simple Satellite Tracker for possible flybys of your hometown. If you don't immediately see the rocket, wait 33 seconds for a glint. It's the best part.
VENUS IN A SNOWSTORM: Fill in the blank. Venus is so bright, it _______.
"Can be seen through a snowstorm," answers Wade B. Clark, Jr. of Lyman, Washington. "Here is a photo taken from my back door while snow fell during twilight on March 7th."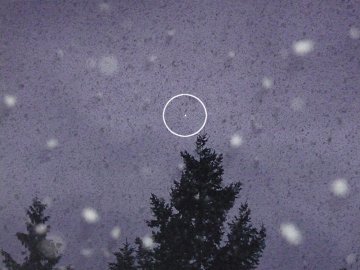 Seeing the planet under such conditions was "truly a delightful surprise," says Clark.
More answers: "Can be seen reflected in ice," says John Gauvreau of Binbrook, Ontario. "Can be seen reflected in water," says Dale Ireland of Silverdale, Washington. "Can be seen in Northern Lights," says Sylvain Serre of Salluit, Canada. "Can be seen through clouds," says Gonzalo Vargas of Cochabamba, Bolivia. "Can be seen in broad daylight," says Denis Joye of Boulogne, France. "Can be seen through clouds in broad daylight," says Piotr Majewski of Torun, Poland. "Can be seen through a Spruce Tree," says Peter von Bagh of Porvoo, Finland. "Can be seen through a dirty window," says Doug Zubenel of De Soto, Kansas.
Is that all? Submit your images here.
---
March 2009 Aurora Gallery
[previous Marches: 2008, 2007, 2006, 2005, 2004, 2003, 2002]
---
Comet Lulin Photo Gallery
[Comet Hunter Telescope] [Sky maps: March 8]
---