AURORA WATCH: Arctic sky watchers should be alert for Northern Lights next Wednesday and Thursday. A solar wind stream is heading for Earth and it could spark high-latitude geomagnetic storms when it arrives on March 11th or 12th. [gallery]
SATURN AT OPPOSITION: This is the weekend of Saturn. On Sunday, March 8th, the ringed planet will be at its closest to Earth for the entire year, and a marvelous sight through small telescopes. Christopher Go of Cebu City, Philippines, sends this photo he took last night using an 11-inch Celestron: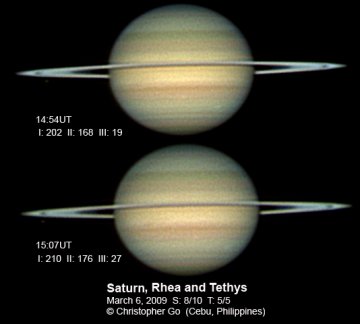 "Look at the rings. They are becoming very bright," points out Go.
He's right. The rings are experiencing the opposition effect. When Saturn is close to Earth, it is also directly opposite the sun: diagram. From our point of view on Earth, sunlight shines directly down on the rings. Ring particles hide their own shadows, producing a surge of reflected brightness.
"This phenomenon will peak on opposition night, March 8," says Go. "For contrasting images from recent weeks, please check my web site.
Finding Saturn: The planet rises in the east at sunset and soars almost overhead at midnight. Look for the bright, golden "star" in the constellation Leo: sky map.
VENUS IN A SNOWSTORM: Fill in the blank. Venus is so bright, it _______.
"Can be seen through a snowstorm," says Wade B. Clark, Jr. of Lyman, Washington. "Here is a photo taken from my back door while snow fell during twilight on March 7th."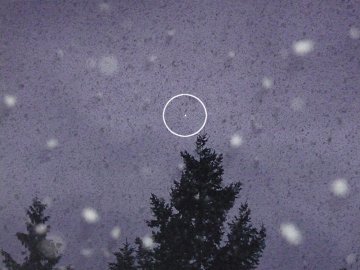 Seeing the planet under such conditions was "truly a delightful surprise," says Clark.
More answers: "Can be seen reflected in water," says Dale Ireland of Silverdale, Washington. "Can be seen in Northern Lights," says Sylvain Serre of Salluit, Canada. "Can be seen through clouds," says Gonzalo Vargas of Cochabamba, Bolivia. "Can be seen in broad daylight," says Denis Joye of Boulogne, France. "Can be seen through clouds in broad daylight," says Piotr Majewski of Torun, Poland.
Is that all? Submit your images here.
---
March 2009 Aurora Gallery
[previous Marches: 2008, 2007, 2006, 2005, 2004, 2003, 2002]
---
Comet Lulin Photo Gallery
[Comet Hunter Telescope] [Sky maps: March 8]
---