COMET LULIN UPDATE: Experienced observers report that Comet Lulin has brightened to naked-eye visibility from dark-sky sites. It looks like a pale "fuzzy patch" in the constellation Libra before dawn. Backyard telescopes pointed at the patch reveal a lovely green comet with a rapidly re-growing plasma tail. Browse the gallery for latest photos.
SUBTLE LUNAR ECLIPSE: Earlier today, the full Moon passed through the outskirts of Earth's shadow producing a subtle "penumbral" lunar eclipse. Christopher Calubaquib photographed the event from El Sobrante, California: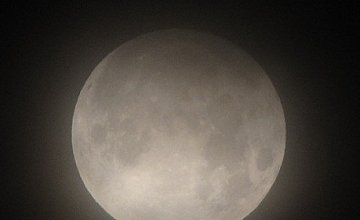 Normal full Moons are fully lit, yet this one has a dusky shading across the north pole. That was the eclipse.
"It was not really a sight that would stop someone in their tracks, but I did find it to be much darker than I imagined," reports Navneeth Chandrasekaran from Chennai, Tamilnadu, India. "This photo was taken about 10 minutes before maximum eclipse."
more images: from Pam Haley of Kailua, Hawaii; from Yandong Hu of Changzhou, Jiangsu, China; from Wah! of Hong Kong; from Miyagi Takafumi of Okinawa Japan; from Karzaman Ahmad of Langkawi National Observatory, Malaysia; from Andy Yeung of Hong Kong; from Rob Kaufman of Bright, Victoria, Australia; from Grahame Kelaher of Perth, Australia; from Ben Levis of Carmel, Perth, Western Australia;
TITAN TRANSIT: Saturn's rings are nearly edge-on to Earth and this is giving astronomers a chance to see unaccustomed things. On Feb 8th, Christopher Go of the Philippines photographed one of them--a transit of Titan.
"I woke up at 1 o'clock in the morning to photograph Titan's passage across the disk of Saturn," says Go. "The sky was overcast from around 1am to around 1:50am. I was fortunate to see the end of the transit which is really stunning as it gave Titan a 3D effect!" He combined several photos taken through his 11-inch Celestron telescope to produce this animation: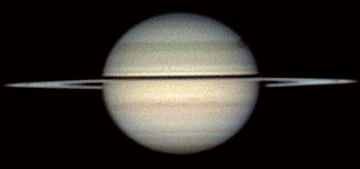 Titan passes in front of Saturn fairly often, but the transits are usually hidden from view by Saturn's broad rings. Only when the rings are edge-on does the giant moon's silhouette reveal itself to backyard telescopes.
"There will be two more transits visible this year: Feb 24th and March 12th," notes Go. "The one on Feb 24th is special as it will be a quadruple transit of Titan, Mimas, Dione and Enceladus. At around 14:25UT on that day, all four moons will be within Saturn's disk."
Feb 24th is special for another reason: Comet Lulin makes its closest approach to Earth on that date, coincidentally just a few degrees away from Saturn: sky map. In one quick sweep of a backyard telescope, you'll be able to see Titan, Saturn's edge-on rings, and a green comet with an active tail. Mark your calendar!
---
February 2009 Aurora Gallery
[Previous Februaries: 2008, 2007, 2006, 2004, 2003, 2002]
---