IRANIAN ROCKET: The Safir-2 rocket that launched Iran's Omid satellite on Feb. 2nd is tumbling around Earth and catching the attention of sky watchers as sunlight glints off its reflective surfaces. Flashes as bright as 2nd to 3rd magnitude (similar to stars of the Big Dipper) have been reported. Check the Simple Satellite Tracker to find out when the Safir tumbles over your backyard.
STRANGE MOONRISE: Rocky sphere or lump of putty? Onlookers on the shore of Maine's Casco Bay must have wondered which they were seeing last night when the full Moon rose out of the waves: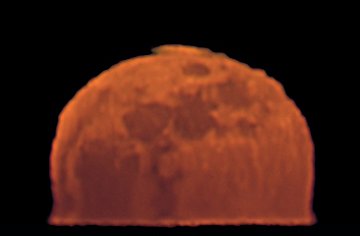 "Earth's atmosphere acted as a lens, causing some interesting distortions," says photographer John Stetson--and the "lump of putty" was just the beginning. Click here to see what happened next.
It was all a mirage. A layer of warm air blanketing the water's surface bent the light of the rising Moon to produce an upside-down image of the Moon just below the real thing. The two images--upside down and rightside up--merged into the putty-like visage Stetson photographed.
"I watched the event alongside pilot Jim Hetch who often sees strange moonrises and moonsets from 40,000 feet," adds Stetson. "He says this was the best he's ever seen from sea level."
more images: from James Helmericks of Colville River Delta, Alaska
RUMBLING REDOUBT: Alaska's Redoubt Volcano is rumbling and geologists say it could erupt within "the next few days or weeks." Time is running out, so put on your 3D glasses and behold the volcano before it explodes: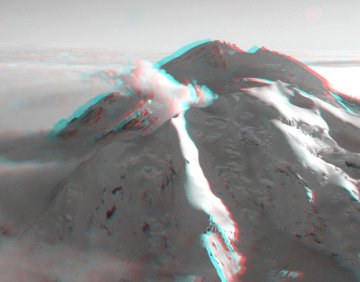 Click to view a full-sized anaglyph
To create the anaglyph, professional photogrammetrist William L. Chamberland combined a pair of aerial photos taken by US Geological Survey photographer Kristi Wallace on Jan. 30th. "Fumarolic activity on the north side of the volcano is associated with the most recent unrest at Redoubt," he says.
The last time an Alaskan volcano blew its top (Kasatochi in August 2008), about a million tons of ash and sulfur dioxide flooded the stratosphere, causing fantastic sunsets around the northern hemisphere and possibly reducing Earth's temperature by a fraction of a degree. With each seismic tremor, Redoubt brings us closer to another blast of SO2. Stay tuned for updates.
more images: from M. Scott Moon of Soldotna, Alaska
---
Comet Lulin Photo Gallery
[Comet Hunter Telescope] [NASA's story] [ephemeris]
---
February 2009 Aurora Gallery
[Previous Februaries: 2008, 2007, 2006, 2004, 2003, 2002]
---