| | | |
| --- | --- | --- |
| AURORA ALERT: Did you sleep through the northern lights? Next time get a wake-up call: Spaceweather PHONE. | | |
NEW SUNSPOT: For the second time this week, a new sunspot is emerging on the sun. It is located at high latitudes in the sun's northern hemisphere and its magnetic polarity identifies it as a member of new Solar Cycle 24. The spot is growing rapidly and may soon provide a nice target for backyard solar telescopes.
BIGGEST FULL MOON OF THE YEAR: The biggest full Moon of the year is coming this weekend. It's a "perigee Moon" as much as 14% wider and 30% brighter than lesser Moons we'll see later in 2009. Science@NASA has the full story.
Last night on the Kolyskia peninsula in Russia, a blast of moonlight pierced the clouds and produced a 22o ice halo: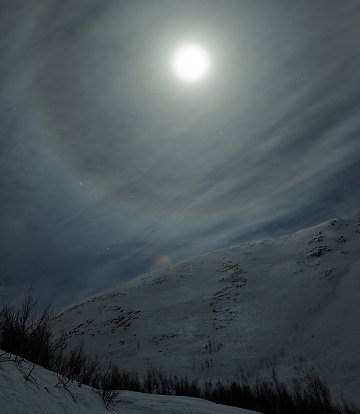 Aleksandr Chernucho took the picture using his Nikon D700. Readers, take note of the exposure time (10s) and ISO setting (500). You might be photographing halos of your own this weekend. Bright full Moons make lovely atmospheric optics.
more images: from Peter Paul Hattinga Verschure of Deventer, The Netherlands; from Tamas Ladanyi of Zsambek, Hungary; from Phillip Chee of Peterborough, Ontario, Canada; from Martin Mc Kenna of Maghera, Co. Derry, N. Ireland; from Jonathon Stone of Auburn, Alabama;
APPROACHING COMET: Comet Lulin (C/2007 N3), discovered in 2007 by a Strait-bridging team of astronomers from Taiwan and China, is swinging around the sun and approaching Earth. Astronomer Karzaman Ahmad sends this picture taken Jan. 7th from the Langkawi National Observatory in Malaysia: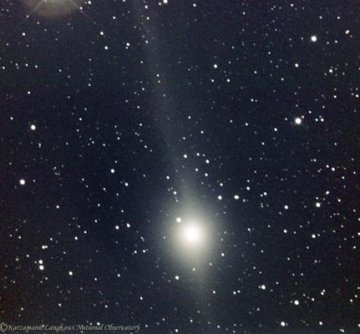 "I used the observatory's 20-inch telescope for an exposure of 24 minutes," he says. "The image shows the comet's bright tail and an anti-tail."
Right now, Comet Lulin is gliding through the constellation Libra in the southeastern sky before dawn: sky map. It glows like an 8th magnitude star, so a mid-sized backyard telescope is required to see it. Visibility will improve in February as the Earth-comet distance shrinks. At closest approach (0.41 AU) on February 24th, the comet should brighten to about 5th magnitude--dimly visible to the unaided eye and an easy target for binoculars: ephemeris.
Surprises are possible. The hyperbolic orbit of Comet Lulin suggests this could be the comet's first visit to the inner solar system. How it will react to increasing sunlight is anyone's guess. Stay tuned for updates in the weeks ahead.
BONUS: Chinese astronomer Quanzhi Ye co-discovered the comet and he is continuing to monitor it. "This photo taken on Jan. 5th comes from the same telescope at the Lulin Observatory in Taiwan used to find the comet in the first place," says Ye. "I was only 19 years old at the time of the discovery. I hope that my experience might inspire other young people to pursue the same starry dreams as myself."
---
Jan. 2009 Aurora Gallery
[Previous Januaries: 2008, 2007, 2005, 2004, 2001]