| | | |
| --- | --- | --- |
| AURORA ALERT: Did you sleep through the northern lights? Next time get a wake-up call: Spaceweather PHONE. | | |
NEW-CYCLE SUNSPOT: It's not big, but it is significant. Emerging sunspot 1010 is a member of new Solar Cycle 24. This small but growing active region is the latest in a series of new-cycle spots that began popping up on the sun about four months ago. Solar activity is still low, but we appear to be leaving solar minimum behind and beginning the slow ascent to Solar Max in 2011-2013.
more images: from Emiel Veldhuis of Zwolle, the Netherlands; from Stefano Sello of Pisa, Italy; from Pavol Rapavy of Rimavska Sobota, Slovakia
BIGGEST FULL MOON OF THE YEAR: This weekend's full Moon is the biggest full Moon of the year. It's a "perigee Moon" as much as 14% wider and 30% brighter than lesser Moons we'll see later in 2009. Go out and look. Extra-bright moonlight combined with icy air produces wonderful scenes like this: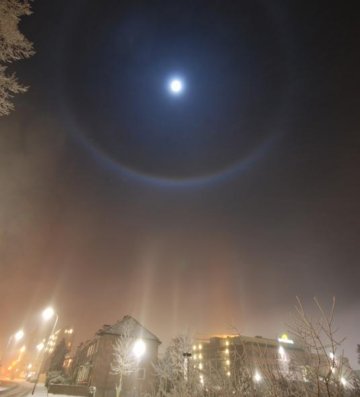 "It's a cold winter here in the Netherlands," says photographer Peter Paul Hattinga Verschure. "Last night the temperature was 8 degrees below zero and the air was filled with ice crystals. Colorful pillars of light rose up from all the bulbs in the city, crowned by a bright halo around the Moon high in the sky."
more images: from K. Raghunathan of Chennai, India; from Bader Eddine Hamdi of Debila, Eloued, Algeria; from Vincent Jacques of Breil-sur-Roya, France; from Mahdi Zamani of Tehran, Iran; from Chantal Steyn on Gough Island in the South Atlantic Ocean; from Jens Hackmann of Weikersheim, Germany; from John Stetson of Sebago Lake, Maine; from Sylvain Serre of Salluit, Nunavik, Canada; from Jan Koeman of Oosterschenge, The Netherlands; from Martin Carvalho of Malacca, West Malaysia; from Ugur Ikizler of Mudanya - Bursa / Turkey; from Doreen Sugierski of Denver, North Carolina; from Tamas Ladanyi of Lake Balaton, Hungary; from David Williams of Frederick, Maryland; from Dominik Kopcsay of Modra, Slovakia; from Rob Kaufman of Bright, Victoria, Australia; from William Chin of Kuala Lumpur, Malaysia
APPROACHING COMET: Comet Lulin (C/2007 N3), discovered in 2007 by a Strait-bridging team of astronomers from Taiwan and China, is swinging around the sun and approaching Earth. Amateur astronomer Gregg Ruppel sends this photo taken Jan. 8th from Ellisville, Missouri: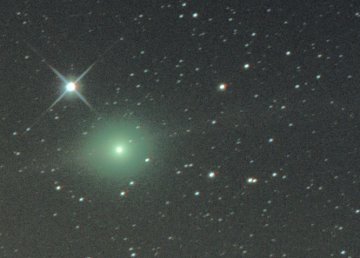 "I caught Comet Lulin in morning twilight as it was passing 6th magnitude star 47 Librae," says Ruppel. "The image is a 24 minute exposure through my 10-inch telescope."
Comet Lulin is gliding through the constellation Libra in the southeastern sky before dawn: sky map. It glows like an 8th magnitude star, so a mid-sized backyard telescope is required to see it. Visibility will improve in February as the Earth-comet distance shrinks. At closest approach (0.41 AU) on February 24th, the comet should brighten to about 5th magnitude--dimly visible to the unaided eye and an easy target for binoculars: ephemeris.
Surprises are possible. The hyperbolic orbit of Comet Lulin suggests this could be the comet's first visit to the inner solar system. How it will react to increasing sunlight is anyone's guess. Stay tuned for updates in the weeks ahead.
DIRECT FROM TAIWAN: Chinese astronomer Quanzhi Ye co-discovered the comet and he is continuing to monitor it. "This photo taken on Jan. 5th comes from the same telescope at the Lulin Observatory in Taiwan we used to find the comet in 2007," says Ye. "I was only 19 years old at the time of the discovery. I hope that my experience might inspire other young people to pursue the same starry dreams as myself."
more images: from Jeremy Perez of Sunset Crater National Monument, Arizona; from Ernesto Guido et al. of Italy; from Bill Gucfa of Rehoboth, Massachusetts; from Karzaman Ahmad of the Langkawi National Observatory in Malaysia:
---
UPDATED: Jan. 2009 Aurora Gallery
[Previous Januaries: 2008, 2007, 2005, 2004, 2001]