AURORA WATCH: High-latitude sky watchers should be alert for auroras tonight. A solar wind stream is buffeting Earth's magnetic field and causing geomagnetic disturbances around the poles: more.
ASTEROID NEAR MISS: On Nov. 6th at 2132 UT, asteroid 2009 VA barely missed Earth when it flew just 14,000 km above the planet's surface. That's well inside the "Clarke Belt" of geosynchronous satellites. If it had hit, the ~6-meter wide space rock would have disintegrated in the atmosphere as a spectacular fireball, causing no significant damage to the ground. 2009 VA was discovered just 15 hours before closest approach by astronomers working at the Catalina Sky Survey.
WEEKEND FIREBALLS: On Saturday, Nov. 7th, just as the sun was setting over San Francisco Bay, a brilliant meteor glided across the sky and disappeared into the sunset. Witnesses say it was "slow-moving," "white and green," and that it left behind "a trail of smoke and sparkles of debris." Alerted by a friend, Rick Baldridge of Campbell, California, rushed outside and snapped this picture of the fireball's aftermath: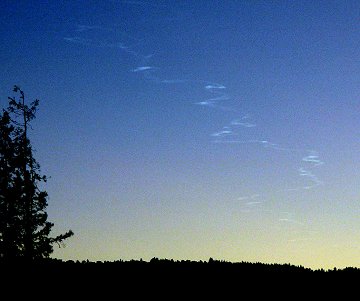 "This was a rare event," says Baldridge. "I have not seen a high altitude 'smoke' stream like this for more than 20 years."
The fireball may have been a piece of periodic Comet 2P/Encke. Right now, Earth is passing through a stream of debris from the comet, and this is causing the annual Taurid meteor shower, which peaks between Nov. 5th and 12th. The display usually produces no more than about 5 meteors per hour, but what it lacks in number, it makes up for in dazzle. Taurids tend to be fireballs, bright enough to be seen even in twilight skies. At the time of the Bay Area fireball, the constellation Taurus was rising in the east, so the fireball's identification as a Taurid seems probable, albeit not certain.
A few hours later in Ozark, Arkansas, amateur astronomer Brian Emfinger photographed a definite Taurid: movie. "I estimate its brightness at around magnitude -10 (almost 200 times brighter than Venus)."
Sky watchers should be alert for Taurid fireballs in the nights ahead. The best time to look is during the hours around midnight when the constellation Taurus soars high overhead: sky map.
COMPLETE FOGBOW: On Oct. 24th, Mila Zinkova of San Francisco took an early morning stroll along the beach. As her shadow stretched across the damp sand, a ghostly white ring surrounded the dark form. "It was a 360o fogbow--a very special sight," she says.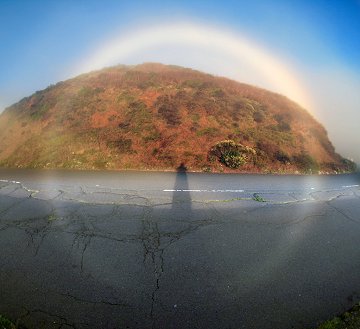 Fogbows are close cousins of rainbows. The difference is droplet size. Rainbows appear when sunlight bounces in and out of large raindrops. The same type of reflection produces a fogbow, except fog droplets are much smaller. Small droplets don't separate the colors of sunlight as widely as large raindrops do. In a fogbow, therefore, the colors are smeared together, producing a ghostly-white arc.
"Nearby I saw a spiderweb," adds Zinkova. "The whole web was covered with tiny fog droplets, the droplets that made fogbow possible."
Only one question remains: Why is the fogbow a complete circle? Most fogbows, like rainbows, display only their upper half. Atmospheric optics expert Les Cowley has the answer: "All fogbows would like to be a full circle centered on your shadow, but usually there are insufficient tiny fog droplets near the ground to make a bow bright enough to see. Here the dark background helps to reveal it."
BONUS: weekend solar images: from Pete Lawrence of Selsey, West Sussex, UK; from Alan Friedman of Buffalo, New York;
---
October Northern Lights Gallery
[previous Octobers: 2008, 2007, 2006, 2004, 2003, 2002, 2001]
---