ASTEROID NEAR MISS: On Nov. 6th at 2132 UT, asteroid 2009 VA barely missed Earth when it flew just 14,000 km above the planet's surface. That's well inside the "Clarke Belt" of geosynchronous satellites. If it had hit, the ~6-meter wide space rock would have disintegrated in the atmosphere as a spectacular fireball, causing no significant damage to the ground. 2009 VA was discovered just 15 hours before closest approach by astronomers working at the Catalina Sky Survey.
MAGNETIC FILAMENT: Today, amateur astronomers are monitoring a picturesque magnetic filament looping around the western limb of the sun. Jan Timmermans sends this picture from his backyard observatory in Valkenswaard, The Netherlands: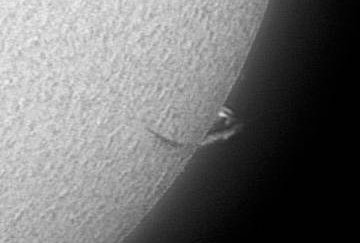 The portion of the filament seen in front of the sun looks dark, because it is cooler than the inferno below. But note how the filament glows in projection against the black space beyond the limb. The glow comes from plasma trapped inside the filament--not as bright as the surface of the sun, but definitely brighter than the void.
"The image clearly shows that the only difference between a 'dark' filament and a 'bright' prominence is where they are located: inside or outside the solar disk," notes Timmermans. (diagram)
more images: from Alan Friedman of Buffalo, New York; from Stephen Ames of Hodgenville, Kentucky;
COMPLETE FOGBOW: On Oct. 24th, Mila Zinkova of San Francisco took an early morning stroll along the beach. As her shadow stretched across the damp sand, a ghostly white ring surrounded the dark form. "It was a 360o fogbow--a very special sight," she says.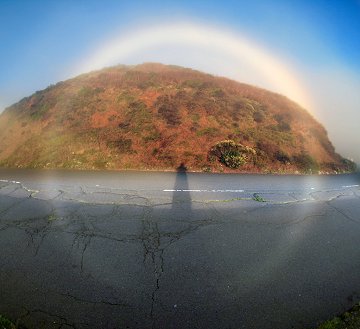 Fogbows are close cousins of rainbows. The difference is droplet size. Rainbows appear when sunlight bounces in and out of large raindrops. The same type of reflection produces a fogbow, except fog droplets are much smaller. Small droplets don't separate the colors of sunlight as widely as large raindrops do. In a fogbow, therefore, the colors are smeared together, producing a ghostly-white arc.
"Nearby I saw a spiderweb," adds Zinkova. "The whole web was covered with tiny fog droplets, the droplets that made fogbow possible."
Only one question remains: Why is the fogbow a complete circle? Most fogbows, like rainbows, display only their upper half. Atmospheric optics expert Les Cowley has the answer: "All fogbows would like to be a full circle centered on your shadow, but usually there are insufficient tiny fog droplets near the ground to make a bow bright enough to see. Here the dark background helps to reveal it. "
---
October Northern Lights Gallery
[previous Octobers: 2008, 2007, 2006, 2004, 2003, 2002, 2001]
---