REGION OF INTEREST: The Solar and Heliospheric Observatory (SOHO) is monitoring an active region that could mark the location of an emerging sunspot. Readers with solar telescopes, train your optics on the sun's western limb.
DOUBLE FLYBY ALERT: Space shuttle Discovery undocked from the International Space Station today, Sept. 8th, at 3:26 p.m. EDT. The two spacecraft will now proceed to streak through the night sky side by side, distinct but tightly-spaced points of light--a fabulous sight!
Check our Simple Satellite Tracker for flybys.
Yesterday evening, Parks Squyres photographed the ISS and Discovery while they were still joined together gliding through the twilight skies of SaddleBrooke, Arizona: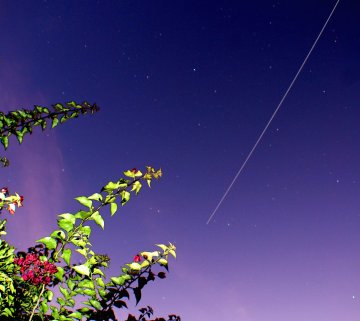 "I took the picture using a Nikon D80 set at ASA 200 for 45 seconds," says Squyres. "The combined spacecraft were very bright."
more images: from Paolo Beltrame of Mortegliano (UD), Italy; from Hal Yeager of downtown Birmingham, Alabama
PREMATURE MOONRISE: On Sunday, Sept. 6th, photographer John Stetson watched the Moon rise over Casco Bay, Maine, and realized something was not quite right. "The Moon was early," he says. "It appeared a few minutes before the time predicted by the US Naval Observatory." What happened? To find the answer, scroll past the premature Moon: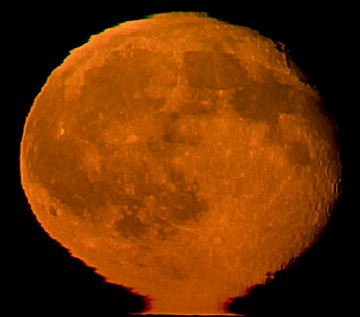 "The light of the Moon was refracted by Earth's atmosphere so that the Moon's image bent around the curvature of the earth. This caused it to appear earlier than expected," explains Stetson. Refraction also gave the Moon its distorted shape, a red fringe along the bottom and a green fringe on top. Stetson documented the full extent of the Moon's "playful illusions" in this sequence of photos.
Readers, check the US Naval Observatory's web site to find moonrise times for your hometown--and start watching early!
EXTRA: A more detailed discussion of Stetson's photo by atmospheric optics expert Les Cowley may be found here.
---
August 2009 Aurora Gallery
[previous Augusts: 2008, 2007, 2006, 2005, 2004, 2003, 2002, 2001]
---