SPACE STATION SIGHTINGS: The International Space Station and space shuttle Discovery have entered the evening skies of North America. Docked together, they are brighter than any star in the sky, so you won't want to miss a single apparition. Check the Simple Satellite Tracker for flybys.
images: from Paul Martini of Joshua Tree National Park, California; from Jonathan Sabin of Ellenton, Florida; from Jerry Chab of Falls City, Nebraska; from Ben Cooper of East Hampton, New York; from Paco Bellido of Córdoba, Spain; from Ron Hodges of Midland Texas;
ROCKETING PLASMA BLOB: Solar activity is low, but it's not zero. Consider the following: On Sept. 5th, Jean-Paul Godard of Paris, France, was watching some prominences gently wave over the edge of the sun when, suddenly, a plasma blob rocketed into view: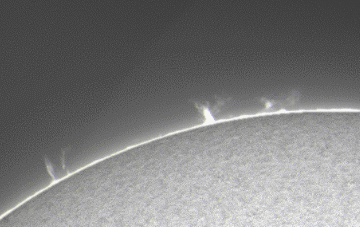 "I've never seen a fast ejection like this before," says Godard. "I recorded the action using a 3-inch refracting telescope and a Coronado SolarMax filter."
The blob does not appear to have escaped the sun. Indeed, it might not have been a blob at all, but rather a plasma wave traveling up a magnetic flux tube--and 'breaking' when it reached the top. Whether it was a rocketing blob or breaking wave, it shows that even the quiet sun is worth watching. Monitoring is encouraged.
more images: from Alan Friedman of Buffalo, New York; from Cai-Uso Wohler of Bispingen, Germany; from Francisco A. Rodriguez of Cabreja Mountain Observatory, Canary Islands; from Jimmy Eubanks of Boiling Springs, South Carolina; from Pavol Rapavy of Observatory Rimavska Sobota, Slovakia;
SOLAR MINIMUM VS. GLOBAL WARMING: From 2002 to 2008, decreasing solar irradiance has countered much anthropogenic warming of Earth's surface. That's the conclusion of researchers Judith Lean (NRL) and David Rind (NASA/GISS), who have just published a new analysis of global temperatures in the Geophysical Research Letters. Lean and Rind considered four drivers of climate change: solar activity, volcanic eruptions, ENSO (El Nino), and the accumulation of greenhouse gases. The following plot shows how much each has contributed to the changing temperature of Earth's surface since 1980: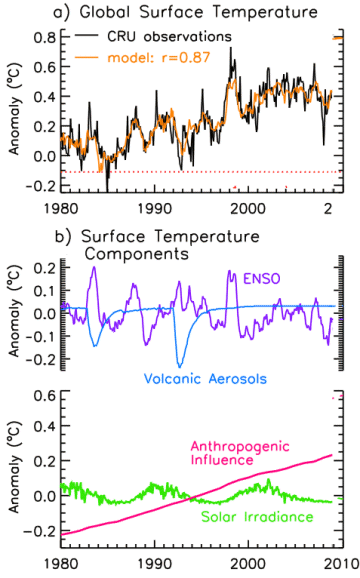 Volcanic aerosols are a source of cooling; ENSO and greenhouse gases cause heating; the solar cycle can go either way. When added together, these factors can account for 76% of the variance in Earth's surface temperature over the past ~30 years, according to the analysis of Lean and Rind.
Several aspects of their model attract attention: "The warmest year on record, 1998, coincides with the 'super-El Nino' of 1997-98," points out Lean. "The ESNO is capable of producing significant spikes in the temperature record." Solar minimum has the opposite effect: "A 0.1% decrease in the sun's irradiance has counteracted some of the warming action of greenhouse gases from 2002 - 2008," she notes. "This is the reason for the well-known 'flat' temperature trend of recent years."
What's next? Ultimately, the authors say, temperatures will begin rising again as greenhouse gases accumulate and solar activity resumes with the coming of the next solar cycle. Of couse, the solar cycle could be out of whack; if solar minimum deepens and persists, no one is certain what will happen. Lean and Rind reveal their predictions for the future here.
Reference: Lean, J. L., and D. H. Rind (2009), How will Earth's surface temperature change in future decades?, Geophys. Res. Lett., 36, L15708
---
August 2009 Aurora Gallery
[previous Augusts: 2008, 2007, 2006, 2005, 2004, 2003, 2002, 2001]
---