Where's Saturn? Is that a UFO--or the ISS? What's the name of that star? Get the answers from mySKY--a fun new astronomy helper from Meade.

CRACKLING SUNSPOT: Decaying sunspot 980 is surprising observers with some intense last gasps of activity. "I caught a C-flare in mid-eruption on Jan. 7th," says Greg Piepol of Rockville, Maryland. NOAA forecasters estimate a 5% chance of even more powerful M-class flares today. Monitoring is encouraged.

ASTEROID FLYBY: On Jan. 10th, asteroid 2005 WJ56 will fly past Earth only 2.6 million miles away. There's no danger of a collision, but the kilometer-wide space rock will be close enough for amateur astronomers to photograph as it glides through the constellation Taurus glowing like an 11th magnitude star.

Last night in Sonnenbuehl, Germany, Martin Wagner caught the asteroid passing through the glare of 2nd-magnitude Beta Aurigae: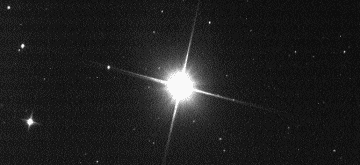 "It was very easy to see with my 10-inch Newtonian telescope and a Starlight XPress MX7C CCD camera," he says. "Across a small part of Earth's surface, the asteroid actually eclipsed the star, which winked out for about a second."
Tonight is another good time to look. "On Jan. 8th at 23:30 UTC, the asteroid can be found less than 1o northwest of the bright star cluster M36," notes reader Gunnar Glitscher of Darmstadt, Germany. [ephemeris] [3D orbit]
FIRST LIGHT: A new solar cycle has begun and already it has produced its first light--an outbreak of auroras on Jan. 5th. "It was a nice flowing display that persisted for an hour and a half," reports photographer Calvin Hall of Palmer, Alaska. "A Great Horned Owl would hoot when the auroras were most active."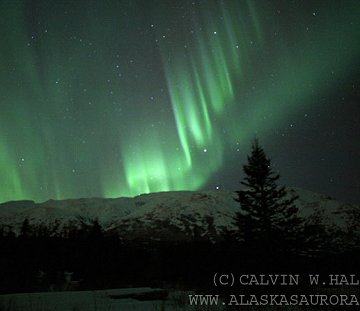 The lights were sparked by a solar wind stream that hit Earth late on Jan. 4th. Our planet is still inside the stream, which means more auroras are possible tonight. High-latitude sky watchers, when the owl hoots, look up!
January 2008 Aurora Gallery
[World Map of Aurora Sightings]
[aurora alerts] [Night-sky Cameras]