Where's Saturn? Is that a UFO--or the ISS? What's the name of that star? Get the answers from mySKY--a fun new astronomy helper from Meade.

ASTEROID FLYBY: On Jan. 10th, asteroid 2005 WJ56 will fly past Earth only 2.6 million miles away. There's no danger of a collision, but the kilometer-wide space rock will be close enough for experienced amateur astronomers to photograph as it glides through the constellation Taurus glowing like an 11th magnitude star. Last night, Gunnar Glitscher of Darmstadt, Germany, made this movie of 2005 WJ56. "On Jan. 8th at 23:30 UTC, the fast-moving asteroid can be observed with mid-sized telescopes less than 1o northwest of the bright star cluster M36," he notes. [ephemeris] [3D orbit]

FIRST LIGHT: A new solar cycle has begun and already it has produced its first light--an outbreak of auroras on Jan. 5th. "It was a nice flowing display that persisted for an hour and a half," reports photographer Calvin Hall of Palmer, Alaska. "A Great Horned Owl would hoot when the auroras were most active."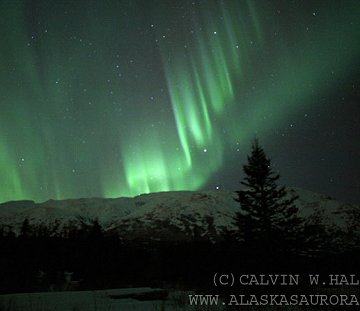 The lights were sparked by a solar wind stream that hit Earth late on Jan. 4th. Our planet is still inside the stream, which means more auroras are possible tonight. High-latitude sky watchers, when the owl hoots, look up!
January 2008 Aurora Gallery
[aurora alerts] [Night-sky Cameras]
SOUTHERN SUNDOG: It's high summer in Australia, but there is still ice in the air. Photographer Tim Thorp sends the proof from Bull Creek Ranges, South Australia: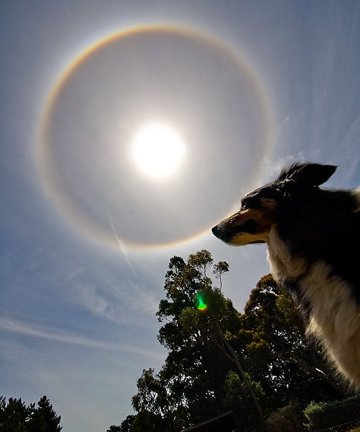 The luminous ring around the sun is caused by sunlight passing through ice crystals in high clouds. "It was visually spectacular," says Thorp, who took the picture using his Nikon D70 set at ISO 200.
And, no, that's not a sundog. Thorp's furry sidekick "will have to wait several hours to see its companion in the sky because sun dogs cannot form when the sun is so high," explains atmospheric optics expert Les Cowley. "This is a circumscribed halo, a high-sun version of a tangent arc."
---
Comet 17P/Holmes Photo Gallery
[World Map of Comet Sightings]
[sky map] [ephemeris] [orbit] [comet binoculars]