| | | |
| --- | --- | --- |
| FLYBY ALERT! Space shuttle Discovery launched on May 31st. Get your flyby alerts from Space Weather PHONE | | |
MOON-MARS TONIGHT: Have you been looking for Phoenix? It's on that little red dot right beside the Moon. Tonight, after sunset, go outside and look west. The Moon and Mars are gathered together only a few degrees apart. This makes Mars and all its inhabitants easy to find: sky map.
PHOENIX UPDATE: Phoenix's scoop has dumped its load (pictured below) into the TEGA furnace, but the material may not have made it past a screen designed to protect the system from clogging. "I think it's the cloddiness of the soil and not having enough fine granular material [to pass through the screen]," says science team member Ray Arvidson "In future, we may prepare the soil by pushing down on the surface with the arm before scooping up the material to break it up, then sprinkle a smaller amount over the door." [more]
WHITE CLOD: The crumbly material in this photo is about to be dumped into a furnace on Mars. The furnace is an oven inside the Phoenix lander, and the material is a scoop of Mars itself: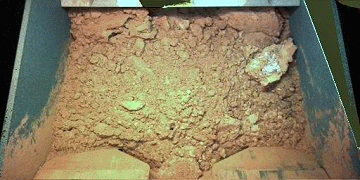 On June 5th, Phoenix's robotic arm gathered this sample of topsoil from a spot called "Baby Bear." It contains one of the mysterious white clods seen here and there on the ground around Phoenix and also contained in previous test scoops. Is it ice, salt, or something new and unexpected?
A trip to the furnace may tell. Phoenix's Thermal and Evolved Gas Analyzer (TEGA) is a combination high-temperature furnace and mass spectrometer. Material vaporized by the furnace is "sniffed" by the mass spectrometer to determine its chemical composition. Stay tuned for updates.
3D BONUS: Put on your 3D glasses and take a look at this image of Phoenix's scoop holding the white clod and poised to pour it through the open doors of TEGA's furnace. Patrick Vantuyne of Belgium created the anaglyph using right- and left-eye images from Phoenix's stereo camera. more: Mars Yeti, One small step..., Vines, Scoop Two.
CORONA LIGHT: Yesterday, when the International Space Station (ISS) cut through the evening twilight over Tucson, Arizona, photographer Scott Peshia had his camera ready and captured the flyby. He calls this snapshot Corona Light: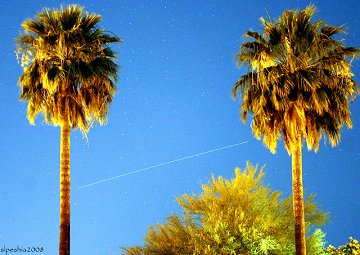 The ISS in blue sky? That's right, absolute darkness is no longer required to see the ISS. The growing space station is now brighter than Venus and more than one reader has reported seeing it in broad daylight. Space shuttle Discovery is currently docked to the ISS, which makes the complex brighter still. It's a beautiful sight. Please try our Simple Flybys tool to find out when to look.
Also, be alert for flares. Dave Nelson of Stoughton, Wisconsin, reports "I just watched the ISS go over tonight (June 6th)--a nice pass almost directly overhead. Then, as the ISS headed east, it flared better than any Iridium!" This is caused by sunlight glinting off one of the station's many flat surfaces. ISS flares are currently unpredictable; they are a breathtaking surprise.
more images: from Mike Borman of Evansville, Indiana; from Dan Earl of Grass Valley, Oregon; from Bryan of Babylon, New York; from Steve Newcomb of Oakland, Maryland; from Paco Bellido of Córdoba, Spain;
---