LUNAR IMPACT VIEWER'S GUIDE: On Friday morning, Oct. 9th, you can watch a pair of spacecraft crash into the Moon with your own eyes. The purposeful impacts are the climax of NASA's LCROSS mission to unearth signs of water in lunar soil. Today's story from Science@NASA tells how and where to look.
HARVEST MOONBOWS: This weekend's Harvest Moon mesmerized onlookers with its luminous beauty. In Missouri Valley, Iowa, photographer Mike Hollingshead managed to tear his eyes away for a moment and he discovered an even better show behind his back: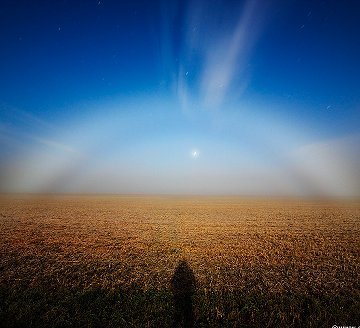 "It was a lunar fogbow," says Hollingshead. "The bright light of the Harvest Moon was shining into a fogbank rising over a recently-harvested field. The resulting fogbow was surprisingly vivid and well-defined." (At the base of the photo, the dark homunculus is the photographer's own moon-shadow pointing east toward the dawn sky where Venus can be seen shining through the mist.)
Fogbows are sometimes called "white rainbows," and that's about right. Both rainbows and fogbows are caused by light reflected from water droplets. When the droplets are large (rain), they act like prisms, spreading the colors wide for easy visibility. When the droplets are small (fog), the prism-action is reduced, and colors are smeared together into a ghostly-white arc.
In Maghera, Northern Ireland, Martin McKenna also looked away from the Harvest Moon and witnessed a true lunar rainbow. "An evening shower moved in and as if by magic a rainbow appeared directly opposite the Moon," he says. "It only lasted for one minute but it was a great sight."
FINDING GROUND ZERO: If you plan to watch this Friday's lunar impacts through a backyard telescope, start practicing now. Pinpointing Cabeus among so many other craters around the lunar south pole isn't easy. David Evans of Coleshill, UK, found the impact site on Oct. 3rd using his Meade 8-inch telescope: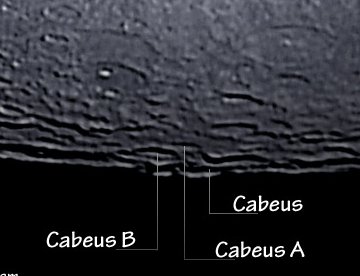 One way to know you've found the right crater: It'll be the one with an fluffy plume on Friday morning, Oct. 9th. Mission scientists expect debris from the double-impact of LCROSS and its booster rocket to rise about 7 kilometers over the rim of Cabeus. There will be two plumes, one from the booster rocket (4:30 am PDT) and another from the LCROSS mothership (4:34 am PDT). Each is expected to linger in sunlight for 60 to 90 seconds before falling back into the shadowy depths of Cabeus. The surface brightness of the plumes should be similar to that of surrounding sunlit terrain.
To help potential observers witness and photograph the impacts, veteran amateur astronomer Kurt Fisher has prepared an excellent "how-to" slideshow. Another good place to find observing tips and to chat with fellow observers is Google's LCROSS observer's group. NASA's Citizen Science Site and Spaceweather.com welcome all images of this unprecedented experiment. Let's go!
---
Sept. 2009 Aurora Gallery
[previous Septembers: 2008, 2007, 2006, 2005, 2004, 2002, 2001]
---