LUNAR IMPACT VIEWER'S GUIDE: On Friday morning, Oct. 9th, you can watch a pair of spacecraft crash into the Moon with your own eyes. The purposeful impacts are the climax of NASA's LCROSS mission to unearth signs of water in lunar soil. Today's story from Science@NASA tells how and where to look.
FINDING GROUND ZERO: If you plan to watch this Friday's lunar impact through a backyard telescope, start practicing now. Pinpointing Cabeus among so many other craters around the lunar south pole isn't easy. David Evans of Coleshill, UK, found the impact site on Oct. 3rd using his Meade 8-inch telescope:
One way to know you've found the right crater: It'll be the one with an fluffy plume on Friday morning. Mission scientists expect debris from the double-impact of LCROSS and its booster rocket to rise about 7 kilometers over the rim of Cabeus. There will be two plumes, one from the booster rocket (4:30 am PDT) and another from the LCROSS mothership (4:34 am PDT). Each is expected to linger in sunlight for 60 to 90 seconds before falling back into the shadowy depths of Cabeus. The surface brightness of the plumes should be similar to that of surrounding sunlit terrain.
More Lunar Impact Resources:
ITALIAN GLORY: Yesterday, photographers Andrea Alessandrini and Paolo Candy were flying over Italy's Tirrenum Sea when they looked out the window of their airplane and saw this: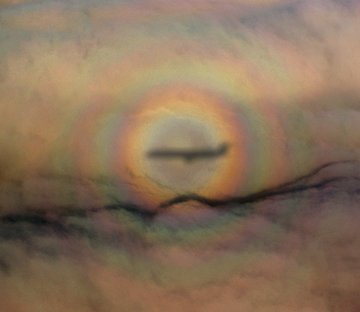 It was a glory--"one of the prettiest I've ever seen," says Candy. And that means something because he's written a book on the subject.
Glories are rings of light around your shadow. They are caused by sunlight reflected backwards from water droplets in clouds. Exactly how backscattering produces the colorful rings is a mystery involving surface waves and multiple reflections within individual droplets. Each sighting is a puzzle--all the more reason to seek them out.
"Glories are often seen from aircraft," notes atmospheric optics expert Les Cowley. "Get a seat opposite the sun and watch them ring the aircraft's shadow." Airplanes are not absolutely required, however. All you really need is a high perch and moist clouds. Look for glories on mountains and hillsides, in sea fog, and even indoors.
---
Sept. 2009 Aurora Gallery
[previous Septembers: 2008, 2007, 2006, 2005, 2004, 2002, 2001]
---