| | | |
| --- | --- | --- |
| BEHOLD THE SUN: Would you like to see fiery prominences and new-cycle sunspots with your own eyes? On sale now: Personal Solar Telescopes. | | |
NORTHERN LIGHTS: A high-speed solar wind stream is buffeting Earth's magnetic field and causing geomagnetic storms around the Arctic Circle. Sky watchers from Alaska to Scandinavia should be alert for auroras: gallery.
NEW SUNSPOT: Magnetic fields are punching through the solar surface and coalescing to form a sunspot near the sun's southeastern limb. This SOHO magnetic map of the sun shows the region's location and polarity: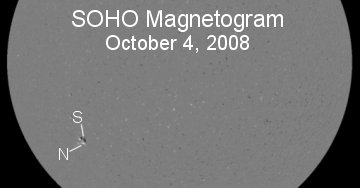 The high southern latitude of the active region means it is probably a member of new Solar Cycle 24. The sun has been relentlessly blank for most of 2008, signifying a deep and sleepy minimum of the solar cycle. This tiny spot, and other recent ones like it, show that the sun is awakening again, albeit very slowly.
Readers, if you have a solar telescope, keep an eye on this herald of things to come.
more images: from Robert Arnold of Isle of Skye, Scotland; from Stephen Ames of Hodgenville, Kentucky; from Gernot Lausen of Fleckeby, Germany; from Stuart Thomson of Melbourne, Australia; from Jan Haltenhof of Kiel, Germany
FALSE DAWN: In the northern hermisphere, during the dark hours before sunrise, a ghostly triangle of light can now be seen jutting above the eastern horizon. It looks like the dawn, but it is not. It is the Zodiacal Light. Dennis Mammana photographed the phenomenon on Oct. 3rd from Borrego Springs, California: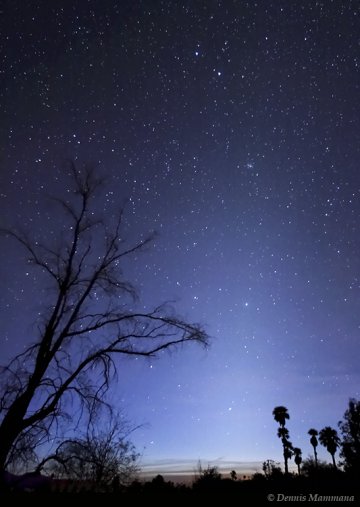 "During autumn months, sky watchers far from city lights can see this softly-glowing cone of light ascending from the eastern horizon about an hour and a half before sunrise," says Mammana. The glow is caused by sunlight illuminating the dusty plane of our solar system. Zodiacal Light springs into view at this time of year because, in autumn, the plane of the solar system juts straight up from the eastern horizon at dawn--high and tall for easy viewing. "This week, with the moon gone from the early morning sky, is a great time to check it out."

more images: from Chris Schur of Winton, QLD, Australia; from Mauro Zorzenon of Altopiano del Montasio, Udine, Italy; from Alex Roca of Hortoneda, Lerida, Spain
---
Oct. 2008 Aurora Gallery
[Previous Octobers: 2007, 2006, 2004, 2003, 2002, 2001, 2000]