| | | |
| --- | --- | --- |
| BEHOLD THE SUN: Would you like to see fiery prominences and new-cycle sunspots with your own eyes? On sale now: Personal Solar Telescopes. | | |
FIREBALL VIDEO: Researchers flying onboard a NASA DC-8 research airplane recorded spectacular video of the Jules Verne spacecraft disintegrating over the South Pacific Ocean last week. Click here to watch.
GREEN RAIN: Last night in Russia's Kolyskia peninsula, storm clouds gathered over Mt. Khibiny and the rain began to fall. Lo and behold, it was green: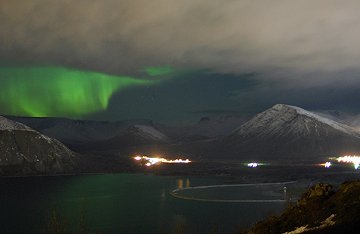 Northern Lights posing as rain are a common occurance in this arctic part of Russia, where photographer Aleksander Chernucho keeps his Nikon D200 close at hand for midnight photo-ops. Shortly after the snapshot, shown above, the clouds pulled back revealing a bank of auroras so bright they turned the harbor waters as green as the sky.
Earth is exiting the solar wind stream that caused the display, but another stream is on the way. Sky watchers around the Arctic Circle should be alert for auroras when it arrives on Oct. 8th or 9th.
Oct. 2008 Aurora Gallery
[Previous Octobers: 2007, 2006, 2004, 2003, 2002, 2001, 2000]
FALSE DAWN: In the northern hemisphere, during the dark hours before sunrise, a ghostly triangle of light can now be seen rising into the sky. It looks like the dawn, but it is not. It is the Zodiacal Light. Dennis Mammana photographed the phenomenon on Oct. 3rd from Borrego Springs, California: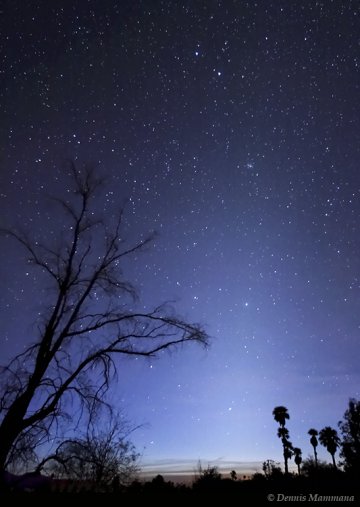 "During autumn months, sky watchers far from city lights can see this softly-glowing cone of light ascending from the eastern horizon about an hour and a half before sunrise," says Mammana. The glow is caused by sunlight illuminating the dusty plane of our solar system. Zodiacal Light springs into view at this time of year because, in autumn, the plane of the solar system juts straight up from the eastern horizon at dawn--high and tall for easy viewing. "This week, with the moon gone from the early morning sky, is a great time to check it out."

more images: from Chris Schur of Winton, QLD, Australia; from Mauro Zorzenon of Altopiano del Montasio, Udine, Italy; from Alex Roca of Hortoneda, Lerida, Spain
---
Oct. 2008 Aurora Gallery
[Previous Octobers: 2007, 2006, 2004, 2003, 2002, 2001, 2000]