DOOMED SNOWBALL: Last week, on Feb. 23rd, the Solar and Heliospheric Observatory (SOHO) watched a comet plunge into the sun and disintegrate. The doomed snowball was a member of the Kreutz sungrazer family. Named after a 19th century German astronomer who studied them in detail, Kreutz sungrazers are fragments from the breakup of a giant comet some 2000 years ago. More than a thousand of these fragments have been catalogued by SOHO since the observatory was launched in 1995. Most are small and faint, but this one was a beauty. Watch the movie.
AURORA WATCH: On March 3rd at 1:49 am, Alaska time, photographer Amara Eren stood shivering in the minus 20-degree air at Chena Hot Springs outside Fairbanks. "It was bitterly cold--even without the wind," she says. But, oh, what a view: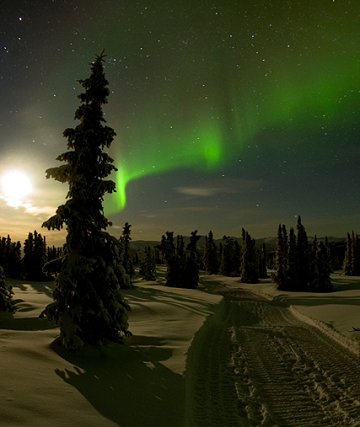 Photo details: Nikon D3, f/4, ISO 400, 75 second exposure.
The display was caused by a minor solar wind stream buffeting Earth's magnetic field. The solar wind is expected to intensify (a little) during the next 24 hours, and NOAA forecasters estimate a 20% chance of high-latitude geomagnetic activity. Arctic sky watchers should remain alert for auroras.
March 2009 Aurora Gallery
[previous Marches: 2008, 2007, 2006, 2005, 2004, 2003, 2002]
RUSSIAN COMSAT CLOUD: "On Saturday evening, February 28th, I was observing at the Astronomical Society of Victoria dark-sky site near Heathcote, Australia," reports Michael Mattiazzo. "At 21:45 AEDT (10:45 UT) I happened to glance westwards and noticed a mysterious V-shaped glow just below Alpha Ceti. During the 5 minutes I spent aligning the telescope and setting up my camera on piggyback, it expanded considerably." He combined four images from his Canon 300D to create this 6-minute animation: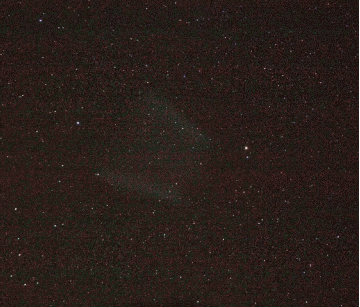 "[The object that emitted the cloud] can be seen in my animation heading in an easterly direction toward the right side of the photo. Satellite expert Tony Beresford has identified it as a new Russian military comsat launched from Baykonur on Feb 28th."
The name of the comsat is Raduga-1; it is an improved version of the Soviet-era old Gran' (Raduga) satellite first launched in 1975. Two burns were required to place Raduga-1 into geosynchronous orbit and purely by chance Mattiazzo saw one of them. It just goes to show ... you never know what you might see if you keep looking up.
---
Comet Lulin Photo Gallery
[Comet Hunter Telescope]
---