AURORA WATCH: Sky watchers around the Arctic Circle should be alert for Northern Lights. A solar wind stream is heading for Earth, and NOAA forecasters estimate a 20% chance of high-latitude geomagnetic activity when it hits on March 3rd or 4th. [gallery]
SOLAR ACTIVITY: With no sunspots in sight, the face of the sun is blank and dull. The edge of the sun, on the other hand, is pretty lively. Peter Lawrence photographed the action on March 2nd from his backyard observatory in Selsey, UK: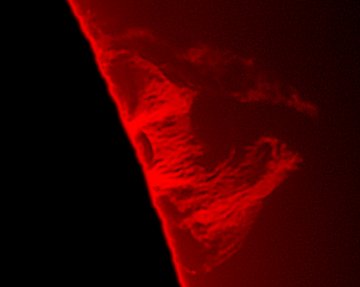 "A lovely clear blue sky with the Sun shining brightly convinced me to take out my solar telescope and have a look at the Sun," says Lawrence. "It didn't disappoint. This lovely complex prominence was visible on the north-western limb, a superb sight to warm a chilly spring day."
According to SOHO, the prominence is still showing off today. Readers, if you have a solar telescope, take a look.
GONDOLA GLORY: On March 1st, skiing photographer Mike Conlan found himself suspended 1,500 feet in the air at the Whistler ski resort in British Columbia. "My friend Steph and I were riding the Peak2Peak gondola from Whistler to Blackcomb Mountain," he explains. "We looked down at the valley floor and noticed a beautiful corona in the clouds below us. The odd part was that it wasn't around the sun, but the shadow of our gondola!"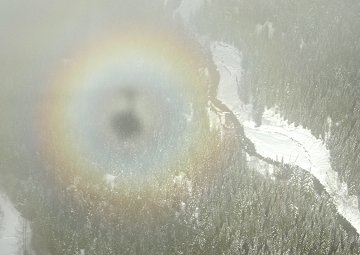 That's because it wasn't a corona--it was a glory.
Coronas are colorful rings around the Sun caused by water droplets in clouds. Sunlight is forward-scattered by the droplets, and the scattered light interferes with itself to produce the colors.
Glories are colorful rings opposite the Sun. They are also formed by water droplets in clouds. In this case, however, sunlight is back-scattered by the droplets. Because shadows converge on the anti-solar point, the center of a glory is usually punctured by the shadow of the photographer--or his gondola!
"It disappeared moments later as we moved past the clouds," says Conlan. "The sight was brief, but very beautiful."
more images: from Scott Sparrow of Pasadena, California; from Bob King of Duluth, Minnesota; from Mike Buchheit at Mohave Point, Grand Canyon National Park; from Jun Lao flying over Europe
---
Comet Lulin Photo Gallery
[Comet Hunter Telescope] [Sky maps: March 1, 2]
---
February 2009 Aurora Gallery
[Previous Februaries: 2008, 2007, 2006, 2004, 2003, 2002]
---