| | | |
| --- | --- | --- |
| AURORA ALERT: Did you sleep through the northern lights? Next time get a wake-up call: Spaceweather PHONE. | | |
SOLAR CYCLE UPDATE: Final sunspot counts for the year 2008 are now available and the numbers are very low. The sun was utterly blank--that is, it had no sunspots whatsoever--on 266 days last year. That makes 2008 a century-class year in terms of low sunspot numbers. To find a year with more blank suns, you have to go all the way back to 1913, which had 311 spotless days. Now for the good news: Evidence is mounting that the deep solar minimum of 2008 is coming to an end; we can expect a livelier sun in 2009.
QUADRANTID RECAP: Saturday's Quadrantid meteor shower was even better than expected. "It was an awesome spectacle, showering us with meteors faster than we could count," reports Jodie Reynolds of Placerville, California. In Bow Valley, Alberta, photographer Yuichi Takasaka caught two of them streaking through the aurora borealis over Castle Mountain: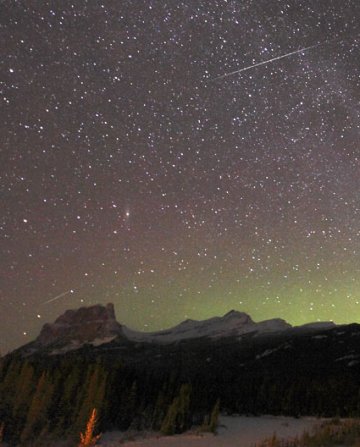 "It was cold outside, -28 C, but well worth the trip to the mountains," says Takasaka. "I saw 50+ meteors and some nice Northern Lights."
According to the International Meteor Organization, the shower produced a maximum of 145 meteors per hour around 1300 UT on Jan. 3rd: data. The timing favored observers in North America, but the peak was broad enough to give observers around the world at least a glimpse of the display. Browse the gallery for more:
UPDATED: Quadrantid Meteor Gallery
[Listen to the meteor radar!]
STRANGE DIP: "The last night of 2008 was exceptionally clear here in southwestern Turkey, thanks to cold and strong northerly winds," says Tunç Tezel of Kumluova, Fethiye. "I watched the Moon and Venus take a strange dip into the Mediterranean. They were heavily distorted by air layers above the sea."
Click on the image to set the scene in motion:
"Venus became double, and the Moon looked even more strange," he says. "After the bright crescent finally went down, Earthshine remained for more than another minute. I lost sight of the faint glow before it actually disappeared, but my camera (a Canon 5D) caught the Earthshine sinking beneath the waves."
more images: from Sam Cole of Austin, Texas; from Pete Lawrence of Selsey, West Sussex, UK
---
Jan. 2009 Aurora Gallery
[Previous Januaries: 2008, 2007, 2005, 2004, 2001]