| | | |
| --- | --- | --- |
| AURORA ALERT: Did you sleep through the northern lights? Next time get a wake-up call: Spaceweather PHONE. | | |
SPACE WEATHER RADIO: For a change of pace, why not listen to today's space weather news? Geomagnetic storm forecasts, backyard astronomy tips, and live sounds from space are a few of the things you can hear on Space Weather Radio.
QUADRANTID SIGHTS AND SOUNDS: The Quadrantid meteor shower peaked on Jan. 3rd and it was a doozy. According to the International Meteor Organization, the shower produced as many as 145 meteors per hour, mainly over North America. "I aimed my Canon 30D at the western sky and caught a good number of them," says Pierre Martin of Ottawa, Ontario. "This image is a composite of the best frames."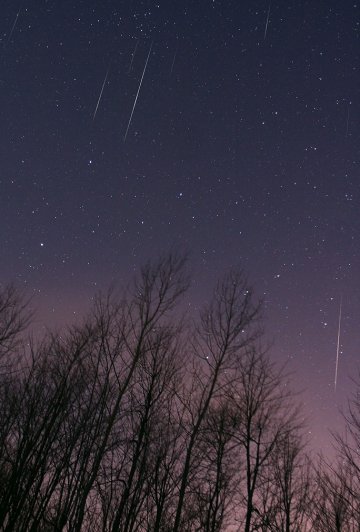 "The most active hour shortly before dawn had 107 Quadrantids," says Martin. "It was a great show!"
In New Mexico, amateur radio astronomer Thomas Ashcraft recorded the reflections of TV signals off the many Quadrantids that passed over his facility. There were so many meteors, all of the reflections ran together and overlapped to produce an eerie-sounding mix. A complete collection of Ashcraft's sono-Quadrantids may be found here.
Quadrantid Meteor Gallery
[Listen to the meteor radar!]
STRANGE DIP: "The last night of 2008 was exceptionally clear here in southwestern Turkey, thanks to cold and strong northerly winds," says Tunç Tezel of Kumluova, Fethiye. "I watched the Moon and Venus take a strange dip into the Mediterranean. They were heavily distorted by air layers above the sea."
Click on the image to set the scene in motion:
"Venus became double, and the Moon looked even more strange," he says. "After the bright crescent finally went down, Earthshine remained for more than another minute. I lost sight of the faint glow before it actually disappeared, but my camera (a Canon 5D) caught the Earthshine sinking beneath the waves."
more images: from Sam Cole of Austin, Texas; from Pete Lawrence of Selsey, West Sussex, UK
---
UPDATED: Jan. 2009 Aurora Gallery
[Previous Januaries: 2008, 2007, 2005, 2004, 2001]