FROSTY MOON: There's a full Moon tonight and it has a special name--the "Frosty Moon." It gets its name from northern autumnal ground frost, which glistens beautifully in pale moonlight. Go outside tonight, look up and down, and enjoy the show.
RAINBOW AT NIGHT: Have you ever seen a rainbow after dark? It happened last night in Yorkshire, UK, where Christopher Walker photographed a multi-colored band arcing over the countryside: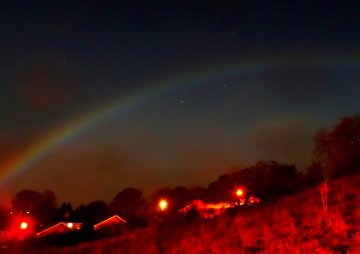 Rainbows appear when sunlight is reflected from raindrops. But in this case, the sun was not required; the Frosty Moon was bright enough to do the job on its own. "The moonlight was so bright I could see red in the rainbow with my unaided eye," says Walker. "A 30 second exposure with my digital camera revealed [the full range of rainbow colors]."
Lunar rainbows aren't the only thing you might see when the Frosty Moon is out. Be alert also for lunar coronas, moon rings, moondogs, and, last but not least, your own moon shadow.
more images: from M-P Markkanen of Kuusamo, Finland; from Ken Stenek of Shishmaref, Alaska; from Mohamad Soltanolkottabi of Kashan, Iran;
BLUE ICE ON THE RED PLANET: Wake up before dawn, go outside, and look straight up. That eerie red "star" staring back down at you is Mars. The red planet is approaching Earth for a close encounter in January 2010 and it is already brighter than a first-magnitude star.
Next, point a telescope at the red planet and you'll see a surprising splash of icy blue: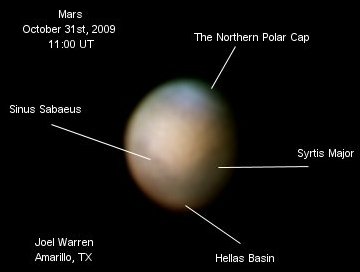 "Mars' north polar cap is big enough and bright enough to be seen though most backyard telescopes at medium to high power," says Joel Warren of Amarillo, Texas, who took the picture, above, on Halloween using an 11 inch Celestron telescope.
On Mars, northern winter has just ended and clouds which normally hover over the martian arctic are breaking up, allowing the planet's great ice cap to be seen. "This apparition will offer observers the best view of the North Polar Region to be had in many years," notes Warren.
more images: from Peter Garbett of Sharnbrook, UK; from Rolando Ligustri of Italy using a remotely-controlled telescope in New Mexico; from Ed Lomeli of Sacramento, California;
---
UPDATED: October Northern Lights Gallery
[previous Octobers: 2008, 2007, 2006, 2004, 2003, 2002, 2001]
---