DON'T FORGET TO FALL BACK: Daylight-saving time ended at 2:00 a.m. on Sunday, Nov. 1st, for most of the U.S. and Canada. Clocks are supposed to "fall back," so don't forget to deduct one hour from all of your time pieces. This development makes morning stars less easy to see just before going to work or school (check it out on Monday morning), while evening stars pop into view at a newly-convenient hour for viewing before dinner.
PARTING SHOT: On its way over the sun's western limb on Oct. 31st, sunspot 1029 unleashed a C-class solar flare and a coronal mass ejection (CME). The Solar and Heliospheric Observatory photographed the billion-ton CME billowing past Mercury:
The blast reinforces sunspot's 1029's position as the most active sunspot of 2009. Last week alone, the sunspot produced ten C-class solar flares, more than tripling the number of flares in the previous 10 months. Sunspot 1029 is a member of long-overdue Solar Cycle 24. Is it also a herald of more active times to come? Stay tuned.
BLUE ICE ON THE RED PLANET: Wake up before dawn, go outside, and look straight up. That eerie red "star" staring back down at you is Mars. The red planet is approaching Earth for a close encounter in January 2010 and it is already brighter than a first-magnitude star.
Next, point a telescope at the red planet and you'll see a surprising splash of icy blue: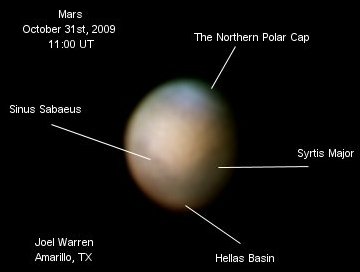 "Mars' north polar cap is big enough and bright enough to be seen though most backyard telescopes at medium to high power," says Joel Warren of Amarillo, Texas, who took the picture on Halloween using an 11 inch Celestron telescope.
On Mars, northern winter has just ended and clouds which normally hover over the martian arctic are breaking up, allowing the planet's great ice cap to be seen. "This apparition will offer observers the best view of the N. Polar Region to be had in many years," notes Warren.
more images: from Peter Garbett of Sharnbrook, UK; from Rolando Ligustri of Italy using a remotely-controlled telescope in New Mexico; from Ed Lomeli of Sacramento, California;
---
UPDATED: October Northern Lights Gallery
[previous Octobers: 2008, 2007, 2006, 2004, 2003, 2002, 2001]
---