ASTEROID FLYBY: Asteroid 2009 DD45 zipped past Earth today, March 2nd at 1340 UT, about 72,000 km (0.00048 AU) away. That's only twice the height of a geostationary communications satellite. The 35-meter-wide space rock is similar in size to the Tunguska impactor of 1908, but today there was no danger of a collision--just a close shave. Experienced amateur astronomers can track the asteroid receding from Earth using this ephemeris.
movies: from Albert Quijano Vodniza of the Nariño Observatory in Colombia; from Dave Herald of Canberra, Australia; from Cristovao Jacques and Eduardo Pimentel of Belo Horizonte, Brazil; from Ernesto Guido et al of the Skylive Observatory in Australia;
SATELLITE DEBRIS: The Feb 10th collision of Kosmos 2251 and Iridium 33 over northern Siberia had an uneven effect on the two satellites. Both were shattered, but Kosmos was broken into twice as many trackable pieces as Iridium, and the Kosmos pieces were scattered into a significantly wider band of orbits: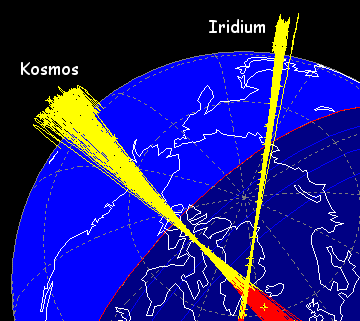 This debris map, created by Daniel Deak of Canada, traces the orbits of 129 Iridium and 275 Kosmos fragments. A side-view of the Kosmos data illustrates the degree to which the Russian satellite is "polluting" the near-Earth environment. "Kosmos fragments range in altitude from 227 km to 1690 km," notes Deak. For comparison, "the Iridiuim fragments are more tightly confined between 525 km and 1265 km."
NASA is reportedly concerned about the risks these debris streams pose to the space shuttle Atlantis when it visits the Hubble Space Telescope for servicing in mid-May 2009. The agency is evaluating the situation, and an update is expected in the near future.
More debris maps: #1, #2, #3, #4, #5
WEEKEND SKY SHOW: Yes, astronomy can tickle your nose. Hal Schade of Rio Dulce, Guatemala, found that out on Friday evening, Feb. 27th, when the Moon and Venus came bubbling out of his champagne glass: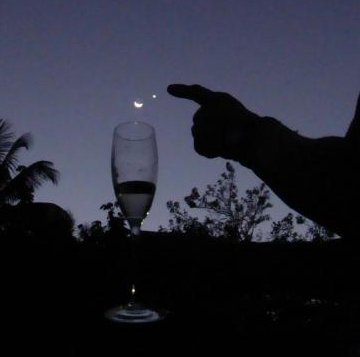 "It was a beautiful conjunction," he says. "The Moon and Venus were very bright and only a little more than 1o degree apart." Schade added his glass to alignment and--snap!--took the picture.
Around the world, millions of others saw the same thing--the Moon gliding by Venus in the sunset. The luminous pair attracted crowds, stopped traffic, and produced a flurry of snapshots. Click on the links below to view some of the best.
more images: from P-M Hedén of Gysinge, Sweden; from Guillermo Abramson of Bariloche, Argentina; from Abe Megahed of Madison, Wisconsin; from Piotr Majewski of Torun, Poland; from Peter Lipscomb of Santa Fe, New Mexico; from Ben Cooper of Ponce Inlet, Florida; from Esteban Castro Acuña of San Nicolás de los Garza, Mexico; from Herfried of Strasbourg, France; from Valentin Grigore of Targoviste, Romania; from Christian Ramirez of Rochester, New York; from Michel Benvenuto of Nice, France; from Mario A. Mora Lara of Queretaro, Mexico; from Chris Peterson of Guffey, Colorado; from Tom Wagner of Iowa City, Iowa; from James W. Young on the RMS Queen Mary in Long Beach Harbor, CA; from Kevin Jung of Grand Rapids, Michigan
---
Comet Lulin Photo Gallery
[Comet Hunter Telescope] [Sky maps: March 1, 2]
---
February 2009 Aurora Gallery
[Previous Februaries: 2008, 2007, 2006, 2004, 2003, 2002]
---