SOLAR CYCLE PREDICTION: An international panel of experts says Solar Cycle 24 will peak in May 2013 with a below-average number of sunspots. Get the full story from Science@NASA.
SOLAR ACTIVITY: "Solar activity is heating up!" reports Robert Arnold from the Isle of Skye, Scotland. This morning he photographed a fiery prominence and a new sunspot emerging near the sun's northeastern limb: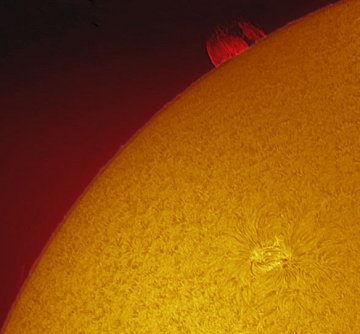 The sunspot, numbered 1019, in growing rapidly as shown in this movie from the Solar and Heliospheric Observatory. The high latitude and magnetic polarity of the spot identify it as a member of new Solar Cycle 24. Readers , if you have a solar telescope, train it on the sun and watch sunspot genesis in action.
more images: from J. Maciaszek and J. Stetson of South Portland, Maine; from Didier Favre of Brétigny sur Orge, France; from Pete Lawrence of Selsey, West Sussex, UK; from Cai-Uso Wohler of Bispingen, Germany; from Chris Newsome of Spondon, Derby, UK; from John C McConnell of Maghaberry Northern Ireland; from Chris Hozee of De Bilt, The Netherlands; from Maximilian Teodorescu of Dumitrana, Romania; from Gernot Lausen of Fleckeby, Schleswig-Holstein, Germany; from Jan Haltenhof of Kiel, Northern Germany;
LIGHTNING SPLASH: On May 26th, photographers Francis Schaefers and Daniel Burger were chasing a thunderstorm along a beach in Vlissingen, the Netherlands, when "the storm turned around and came a little too close for comfort," says Schaefers. "We were able to photograph lightning hitting the water just 40 meters away." Here is the view through their Canon 400D: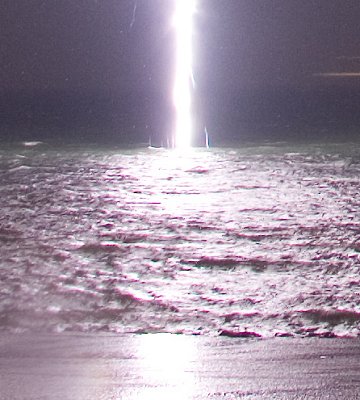 Look closely where the lightning meets the water. Tiny bolts appear to be dancing around the impact site.
"Those are called 'upward streamers,'" says lightning expert Richard Blakeslee of the NASA Marshall Space Flight Center. "In a typical cloud-to-ground lightning strike, as the leader approaches the ground, the large electric field at the leader tip induces these upward propagating streamers. The first one that connects to the downward propagating leader initiates the bright return stroke that we see with our eye. Upward streamers are often observed on photographs of lightning hitting the ground."
Now we know they can be seen when lightning hits the water, too.
Schaefers and Burger took many pictures that night, mostly from underneath a balcony where they figured the lightning wouldn't reach. This favorite is called The Cruise You Don't Want to Take.
---
April 2009 Aurora Gallery
[previous Aprils: 2008, 2007, 2006, 2005, 2004, 2003, 2002]
---