SOLAR CYCLE PREDICTION: An international panel of experts says Solar Cycle 24 will peak in May 2013 with a below-average number of sunspots. Get the full story from Science@NASA.
SUNSPOT 1019: New-cycle sunspot 1019 burst through the surface of the sun on May 31st and it has been growing rapidly ever since. This movie from the Solar and Heliospheric Observatory (SOHO) shows the progress of the active region over a two-day period: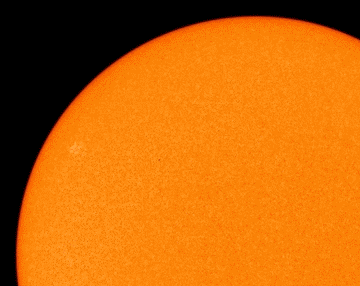 The sunspot's two dark cores are each about the size of Earth, and they are crackling with B-class solar flares. During years of Solar Max (e.g., 2000-2002) we would consider such activity minor, but now, during the deep solar minimum of 2008-2009, it merits attention. The magnetic polarity and high latitude of the sunspot identify it as a member of new Solar Cycle 24, expected to peak in 2013. This makes sunspot 1019 a sign of things to come. Readers with solar telescopes should take a look.
more images: from Jérôme Grenier of Paris France; from Marco Vidovic of Stojnci, Slovenia; from Pavol Rapavy of Observatory Rimavska Sobota, Slovakia; from Steve Wainwright of Swansea, S.Wales, UK; from Gilles Frenette of Edmonton, Alberta, Canada; ; from Deirdre Kelleghan of Bray, Co Wicklow, Ireland; from J. Maciaszek and J. Stetson of South Portland, Maine; from Pete Lawrence of Selsey, West Sussex, UK; from Etienne Lecoq of Mesnil-Panneville, Normandy, France; from P-M Hedén of Vallentuna, Sweden;
BLINDING FLASH: On May 31st, evening sky watchers in northern Poland were temporarily blinded by a sudden flash of light brighter than the full Moon. An automated camera in the town of Gniewowo captured this snapshot of the "un-night" sky: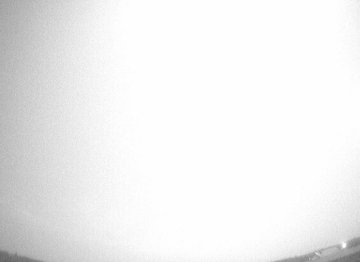 Credit: Krzysztof Polakowski, Polish Fireball Network | MOVIE
What happened? A meteoroid of unknown origin hit Earth's atmosphere and exploded. "It was a huge fireball, probably brighter than magnitude -13," reports Gniewowo resident Przemyslaw Zoladek. "The explosion occured at 20:48 UT and was observed by many casual witnesses and at least two Polish Fireball Network video stations." No one knows if fragments of the object reached the ground. Click here for updates.
---
April 2009 Aurora Gallery
[previous Aprils: 2008, 2007, 2006, 2005, 2004, 2003, 2002]
---