NEW YEAR'S EVE: Mark your calendar. On Wednesday, Dec. 31st, Venus and the crescent Moon will gather for a bright and beautiful conjunction in the sunset sky. It's a nice way to end the year: sky map.
SOLAR ACTIVITY: For the third day in a row, a massive prominence is dancing along the sun's northeastern limb. The Solar and Heliospheric Observatory (SOHO) has been monitoring the action since Christmas Eve: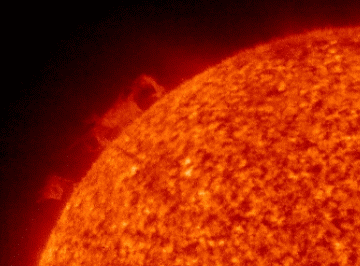 This is a polar crown prominence--a cloud of hot plasma held aloft by solar magnetic fields. Nuclear engineers are keenly interested in these "dance moves." How the sun's magnetic field contains plasma and moves it around is not fully understood, but engineers know they'd like to do the same thing in fusion reactors on Earth. Further studies of the sun may eventually yield the secrets of plasma control.
Meanwhile, consider it an entertaining mystery. Readers, if you have a solar telescope, today is a good day to enjoy the show.
more images: from Kristian Molnar of Kralovicove Kracany, Slovakia; from Jose of Miami, Florida; from James Screech of Bedford, England; from S. Billings et al of South Portland, Maine; from Francisco A. Rodriguez of Gran Canaria. Canary Islands; from Cai-Uso Wohler of Bispingen, Germany; from Matthias Juergens of Gnevsdorf, Germany; from Adrian Guzman of San Jose, California; from Steve Wainwright of Swansea, S. Wales, UK; from Keith Davies of Swansea, S Wales, UK;
NACREOUS CLOUDS: Bright and super-iridescent nacreous clouds are supposed to rare. "Yet we've seen them here twice in one week," reports Sauli Koski of Kittila, Finland. Note the mother-of-pearl band in this snapshot he took earlier today using a Nikon D3x: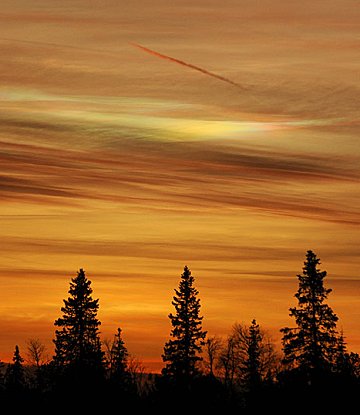 Dark clouds in the photo are tropospheric clouds scudding low over Earth's surface. Nacreous clouds, on the other hand, inhabit the stratosphere some 9 to 16 miles high. They form when the air temperature drops below -85 C. Microscopic ice crystals coalesce in the staggeringly frigid cold, and when sunlight hits those crystals, voilà--a nacreous cloud. The one Koski saw was so bright, it penetrated the tropospheric haze below.
The increasing pace of nacreous cloud apparitions over Finland and other parts of Scandinavia means the air temperature in the polar stratosphere has become very low. High-latitude sky watchers should be alert for more nacreous clouds in the nights ahead. The best time to look is during the twilight hours after sunset or before sunrise.
Dec. 2008 Nacreous Cloud Gallery
[January 2008 Gallery] [Nacreous tutorial]