CALIFORNIA FIREBALL: A remarkable fireball streaked over southern Califonia on Dec. 27th around 1:50 am Pacific time. "It was as if someone had set off a rescue flare that instantly bathed the countryside in whitish blue-green light," reports Grant Bentley of Bishop, CA. "At one point, the path of the meteor went behind a cirrus-stratus cloud that it backlit in snowy green light. After a brilliant show of less than three seconds, it was gone without a trace. This was easily the most massive object I have ever seen burning up as it entered the Earth's atmosphere." Readers, if you witnessed or photographed this event, please submit a report.
LAST AURORAS OF 2008: They're coming, the last auroras of 2008. The source of the display is a coronal hole photographed earlier today by Japan's Hinode spacecraft: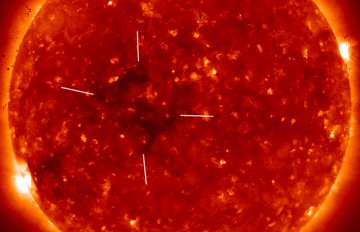 Coronal holes are places in the sun's atmosphere where the sun's magnetic field opens up and allows the solar wind to escape. A stream of solar wind flowing from this coronal hole should reach Earth on Dec. 30th or 31st. The impact could light up the Arctic Circle, punctuating the year with aurora borealis.
Although 2008 has been a year of remarkably low solar activity, polar sky watchers nevertheless have enjoyed many good geomagnetic storms. Galleries: January, February, March, April, May, June, July, August September, October, November, December. Stay tuned for one more.
GHOST OF CHRISTMAS PAST: "The night after Christmas was dark and foggy," says Tom Wagner of Waterloo, Iowa. "I ventured out to the cemetery behind my house to see if I could capture the essence of the mysterious mist. What I ended up with is a stereo image." Put on your 3D glasses and behold: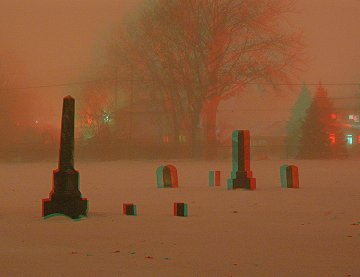 "To create the anaglyph, I combined two pictures taken with my Pentax K20 digital camera," he explains. "One picture was taken about one foot to the right of the other."
The eerie pink color comes from high-pressure sodium lamps, widely used for outdoor lighting such as parking and street lights. "It's easy to see that high pressure sodium lights dominate our urban light pollution," notes Wagner. Low-pressure sodium lamps are preferred by astronomers because their pure yellow light can be filtered out. Pink is trickier to deal with, but it does seem to suit the cemetery...
Learn more about light pollution and how to fight it from the International Dark-sky Association.
---
Dec. 2008 Nacreous Cloud Gallery
[January 2008 Gallery] [Nacreous tutorial]