GEMINID METEOR SHOWER: The annual Geminid meteor shower peaks on Dec. 13th and Dec. 14th when Earth passes through a stream of debris from extinct comet 3200 Phaethon. Bright moonlight will reduce the number of visible meteors from the usual 100/hr to only 20/hr or so. That's still a nice show. For best results, watch the sky starting 10 pm local time on Saturday night (Dec 13th) until dawn on Sunday morning (Dec. 14th). [live updates]
BIGGEST FULL MOON OF THE YEAR: Tonight's full Moon is the biggest of the year, as much as 14% wider and 30% brighter than lesser Moons earlier in 2008. An astronomer would say this is a "perigee Moon" because it occurs at perigee, the side of the Moon's elliptical orbit closest to Earth. Go outside tonight and soak up some moonlight. There's plenty of it: full story.
Vincent Jacques sends this picture from Breil-sur-Roya in the south of France: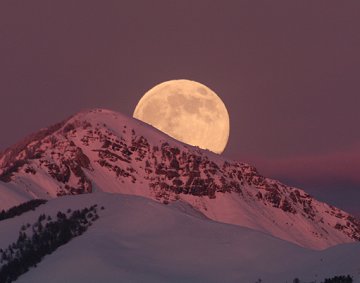 "The full Moon rising behind the Alps was like a giant illuminated balloon!" says Jacques. "I took the picture using my Canon 350D."
more images: from Michel Benvenuto and Antoine Gerhardt of Nice, France; from William Chin of Kuala Lumpur, Malaysia; from Bader Eddine Hamdi of Debila, Eloued, Algeria; from Bill Burnett of Hamilton, Montana; from Mustafa Erol of Antalya, Turkey; from Jimmy Westlake of Stagecoach, Colorado; from Ugur Ikizler of Mudanya, Bursa, Turkey; from Geir Øye of Ørsta, Norway; from Joel Bavais of Anvaing, Belgium;
SHUTTLE SIGHTINGS: It's not every day that an airplane flies by with a spaceship sitting on its roof. That's just what happened, however, yesterday in Texas:

Photo details: Canon EOS 350D, ISO 400, 1/2500s exposure.
Pictured above is space shuttle Endeavour getting a piggy-back ride atop a specially modified 747 jumbo jet. "The pair gaining altitude in our north Texas skies was a stunning sight," says photographer Tom King of Watauga, Texas. The unusual mode of transportation was necessitated by bad weather on Nov. 30th. That's when storms over Florida forced the shuttle to land at Edwards Air Force Base in California. To get back to the Kennedy Space Center, Endeavour hitched a ride on the Shuttle Carrier Aircraft. "Only nine shuttle missions remain," notes King. "This could be the last time Texans and many others across the country see a shuttle in person."
UPDATE: Endeavour has landed at the Kennedy Space Center: more.
more images: from Sue Clark of Webster, Texas; from Jim and Karen Young at Edwards AFB, California;
---