GEMINID METEOR SHOWER: The annual Geminid meteor shower peaks on Dec. 13th and Dec. 14th when Earth passes through a stream of debris from extinct comet 3200 Phaethon. Bright moonlight will reduce the number of visible meteors from the usual 100/hr to only 20 or 30/hr. That's still a nice show. For best results, watch the sky starting 10 pm local time on Saturday night (Dec 13th) until dawn on Sunday morning (Dec. 14th). [live updates]
SHUTTLE SIGHTINGS: This week, space shuttle Endeavour is flying 'cross country from California to Florida piggy-backed on a specially modified Boeing 747. Earlier today, photographer Tom King saw it when it crossed over his hometown in Texas:
"The pair gaining altitude in our North Texas skies was a stunning sight," says King. "Only nine missions remain, quite likely making this the last time Texans and many others across the country will see a shuttle in person."
When Endeavour's recent mission to the ISS ended on Nov. 30th, bad weather over Florida forced the shuttle to land at California's Edwards Air Force Base. That's why Endeavour is taking this ride now--to get back home. The journey includes several stops. Last night, for instance, Endeavour overnighted at the Naval Air Station Joint Reserve Base in Ft. Worth, Texas. Tonight, the shuttle will rest at Barksdale Air Force Base in Louisiana. From there, Endeavour will hop to the Kennedy Space Center, landing in Florida no later than 2 pm EST on Friday. Dec. 12th. Readers, if you live in the area, keep your eyes peeled for this.
more images: from Jim and Karen Young at Edwards AFB, California
BIG LUNAR CORONA: This Friday's full Moon is going to be the biggest and brightest of 2008. That means lunar coronas are going to be big and bright, too. Tonight in Northern Ireland, Martin Mc Kenna photographed this example: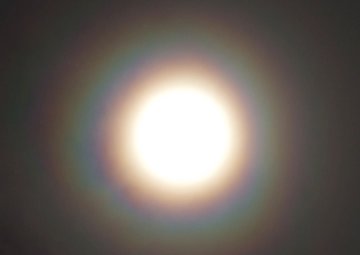 Photo details: Fujifilm S6500fd, ISO100, 4seconds.
"It was a sparkling clear night until some scattered clouds drifted over the Moon causing this wonderful display," says Mc Kenna. "The corona was large with intense multiple rings of colour."
Coronas are caused by tiny water droplets or sometimes small ice crystals in clouds. They diffract the moonlight to produce rings of pastel color that flitter and dance as ragged clouds drift by. "It was a lovely sight on a frosty night!"
---
UPDATED: Great Conjunction Photo Gallery