GEMINID METEOR SHOWER: The annual Geminid meteor shower peaks on Dec. 13th and Dec. 14th when Earth passes through a stream of debris from extinct comet 3200 Phaethon. Bright moonlight will reduce the number of visible meteors from the usual 120/hr to only 30/hr or so. That's still a nice show. For best results, watch the sky starting 10 pm local time on Saturday night (Dec 13th) until dawn on Sunday morning (Dec. 14th). [live updates]
CME BUBBLE: Yesterday, Dec. 8th, something exploded on the far side of the sun. The blast propelled a huge bubble of magnetized plasma over the sun's western limb where the Solar and Heliospheric Observatory (SOHO) photographed it expanding into space:
The bubble (a coronal mass ejection or "CME") is heading in the general direction of Saturn and will not hit Earth. Nevertheless, it does merit our attention. After a long spell of eerie quiet, the sun is showing signs of life, raising expectations that solar minimum is coming to an end. The months ahead will likely bring more CMEs, and not all of them will miss. Stay tuned for space weather.
SATURN'S RINGS: If you haven't looked at Saturn lately, you should. The planet's rings are vanishing. At least, that's how it seems. Saturn's rings are now almost edge-on to Earth forming a razor-thin line across the gas giant.
With the rings out of the way, Hong Kong astrophotographer "Wah!" was able to observe on Dec. 6th a transit of Saturn's moon Titan: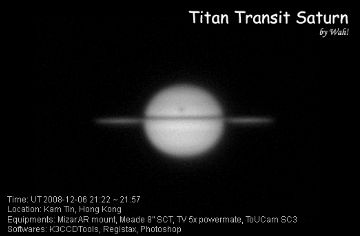 "This event should be quite rare, because we can see it only when Saturn's rings become very thin," he says.
He's right, it is rare, but rare is able to become commonplace. Saturn's rings are going to be this thin (and even thinner) for many months to come. Earth is experiencing a ring plane crossing. As Saturn goes around the sun, it periodically (once every 14-to-15 years) turns its rings edge-on to Earth. Because the rings are so thin, they can actually disappear when viewed through a small telescope. The moment of disappearance for this crossing is about 10 months away: Sept. 4, 2009. Thin is in!
Saturn is easy to see. Before dawn, point your backyard telescope at the bright yellow "star" in Leo: sky map.
more images: from Neil Phillips of Crayford, Kent, UK; from Dan Petersen of Racine, Wisconsin; from Masa Nakamura of Otawara, Tochigi, Japan; from Pete Lawrence of Selsey, West Sussex, UK; from David M. Frost of League City, Texas;
---
UPDATED: Great Conjunction Photo Gallery