BIG FULL MOON: This Friday's full Moon is the biggest full Moon of the year. It is a "perigee Moon," as much as 14% bigger and 30% brighter than lesser full Moons we've seen earlier in 2008. Get the full story from Science@NASA.
SOLAR ACTIVE REGIONS: NASA's STEREO-A spacecraft is monitoring two new-cycle active regions in the sun's southern hemisphere. Circle denote their locations in this ultra-violet image taken just a few hours ago: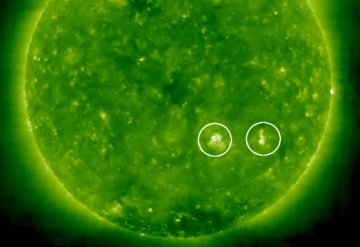 The hot spot on the left is emerging sunspot 1009. The one on the right, however, has no sunspot number; it is invisible from Earth. STEREO-A can see it because the spacecraft is stationed above the sun's western limb with a view over the horizon. Counting "over the horizon" sunspots is an ability unique to the STEREO mission.
The high southern latitude of these active regions identifies them as members of new Solar Cycle 24. New-cycle sunspot counts have been growing since October 2008, leading some forecasters to declare that solar minimum is behind us: full story.
NORTHERN LIGHTS: The moon on the breast of the new-fallen snow gave the luster of midday to objects below.... The night before Christmas? No. Dec. 7th in Finland: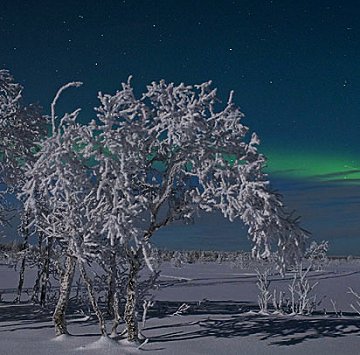 Sauli Koski of Kittila, Finland, took the picture two nights ago when "great moonlight" joined forces with green auroras to produce an Arctic luster of such beauty that Koski nearly forgot "it was -33 degrees outside!" Fortunately, his Nikon D700 did not freeze during the 8-second exposure.
The scene could repeat on Dec. 11th or 12th when a solar wind stream blows past Earth under the light of the biggest and brightest full Moon of 2008. High-latitude sky watchers, be alert for auroras.
---