PROTO-SUNSPOT: A sunspot is struggling to emerge near the sun's southeastern limb. The spot's high southern latitude makes it a likely member of new Solar Cycle 24. "It is bright and shows a number of dark fibrils, two of which look like tarantula fangs," reports Pete Lawrence who sends this photo from his backyard observatory in Selsey, UK.
HOW ROUND IS THE SUN? Scientists using NASA's RHESSI spacecraft have measured the roundness of the sun with unprecedented precision, and they find that it is not a perfect sphere. During years of high solar activity the sun develops a rough "cantaloupe skin" that increases the sun's oblateness: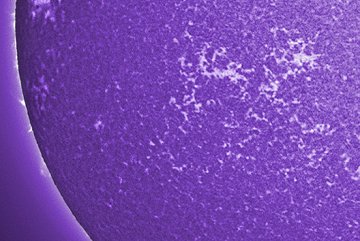 The crinkles, shown here in a July 2005 photo taken by astrophotographer Gary Palmer, brighten and fatten the "stellar waist," adding more than 10 milli-arcseconds to the sun's equatorial angular diameter. Solar physicists have long known about these crinkles, which are made of magnetism and trace bubbling "supergranules" on the sun's surface, but only now has RHESSI revealed their unexpected effect on the sun's global shape. This research has far ranging implications for solar physics and theories of gravity: full story.
KASATOCHI IS BACK: Actually, it never left. Tendrils of sulfurous ash have been drifting through the stratosphere ever since Alaska's Kasatochi volcano erupted in early August. "Yesterday, it became clear that another body of aerosols from Kasatochi was moving over our area," reports Kansas photographer Doug Zubenel. "The sunrises and sunsets we've been having are absolutely amazing!" These purple crepuscular rays appeared on Oct. 2nd: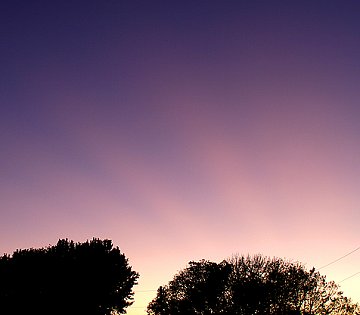 "Look carefully," says Zubenel. "Thin, faint tendrils of aerosols can be seen in two photos from Oct. 1st. The show was topped off by Venus and the crescent moon descending from the blue into the volcanic red. It was quite a scene."
Readers, if at the end of the day you see odd shades of purple and orange coloring the western horizon, you may be experiencing your own Kasatochi flashback. Keep an eye on the sunset!
more images: from Monika Landy-Gyebnar of Veszprem, Hungary; from Tamas Ladanyi of Balatonfuzfo (Hungary)
---
Sept. 2008 Aurora Gallery
[Aurora Alerts] [Night Sky Cameras]