HOW ROUND IS THE SUN? Scientists using NASA's RHESSI spacecraft have measured the roundness of the sun with unprecedented precision, and they find that it is not a perfect sphere. During years of high solar activity the sun develops a thin "cantaloupe skin" that significantly increases its apparent oblateness: full story.
SUNSET SKY SHOW: When the sun goes down tonight, step outside and look west. You'll see Venus and the crescent moon beaming through the rosy glow of sunset. It's a beautiful way to end the day: sky map.
GREEN SKIES: The solar wind is blowing and arctic skies are turning green. "With temperatures dropping to 23 degrees F, I decided to sit inside during this 21-minute exposure on Oct. 1st," says photographer Jack Carlson of Fort Greely, Alaska: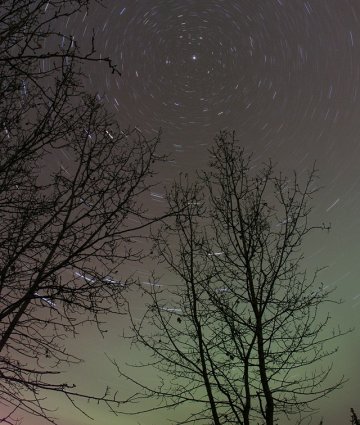 Photo details: Canon 30D, 15mm lens, f5.6, 1244 seconds
"As you can see, auroras are building in the northeast while our planet rotates on its axis, creating a vortex of star trails around Polaris."
NOAA forecasters estimate a 30%-40% chance of continued geomagnetic activity tonight. Sky watchers from Scandinavia to Alaska should remain alert for auroras.
Sept. 2008 Aurora Gallery
[Aurora Alerts] [Night Sky Cameras]
FATHER AND SUN: The face of the sun has been remarkably blank lately, but the edge is a different story. Astronomers have been monitoring some of the best prominences in years. Larry Alvarez of Flower Mound, Texas, calls this one Father and Sun: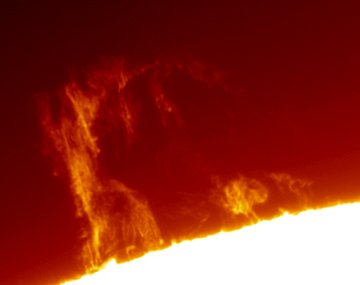 Click on the image to play the movie; DivX required
The image is just one frame of a must-see movie. To watch it, first download the free DivX encoder, then click here.
"The prominence was magnificent--one of the biggest I've seen in years," says Alvarez, who recorded the action using a Coronado 90mm H-alpha filter. "It was raining plasma throughout the 2-hour, 15-minute video."
more information: Polar Crown Prominences from Science@NASA