Where's Saturn? Is that a UFO--or the ISS? What's the name of that star? Get the answers from mySKY--a fun new astronomy helper from Meade.

SPACE SHUTTLE UPDATE: The threat of Hurricane Dean closing mission control in Houston has prompted NASA to recall Endeavour to Earth one day early. The shuttle undocked this morning at 7:56 am EDT and will land in Florida on Tuesday: more.

North Americans should be alert for double-spaceship flybys tonight. Endeavour and the ISS are now separate points of light, and they will soar in tandem over many US cities after dark. Both are bright and easy to see with the naked eye. (continued below)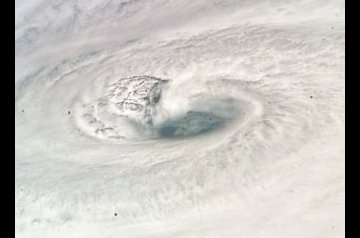 Above: The eye of Hurricane Dean, photographed from the ISS.
Readers with backyard telescopes, try targeting the ISS as it slowly glides across the sky. You can see solar arrays, laboratory modules, living quarters and more; browse the images below.
ISS images and video: from Stefan Seip of Stuttgart, Germany; from Tom Gwilym of Renton, Washington; from Ralf Vandebergh of the Netherlands; from Hanno Falk of Flensburg, Germany (cross your eyes!); from Dirk Ewers of Hofgeismar, Germany; from Mario Weigand of Offenbach, Germany; from Alberto Zampieron of Italy.
SUN HALOS: "I'm a fan of sun halos! And little by little, this passion has intrigued Lydia, my 7 year old daughter," says Laurent Laveder of Port Navalo, France. "Yesterday morning, I lent her my sunglasses to let her see a nice circumscribed halo. As I was in front of her, explaining her what she was observing I noticed the halo reflected in the glasses, took my camera and snapped."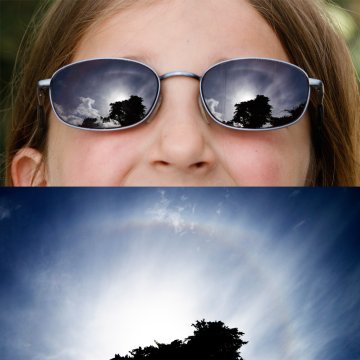 Click here to view more of Laurent's pictures.
"In the lower part of this picture, you can see a photo taken one minute later showing the halo itself. This picture has been left-right reversed to show the halo as its reflection in the glasses."
Photo details: Canon 30D + Sigma 70-300 lens at 70mm (for the portrait) and Sigma 10-20 lens at 10mm (for the halo).
---
2007 Perseid Meteor Gallery
Updated Aug. 14, 2007