Where's Saturn? Is that a UFO--or the ISS? What's the name of that star? Get the answers from mySKY--a fun new astronomy helper from Meade.

AURORA BOREALIS: Last night a solar wind stream hit Earth sparking a mild geomagnetic storm and auroras as far south as Montana: gallery. Earth is still inside the stream, but the storm has subsided and more auroras are unlikely tonight.

SUNSPOT ARCHIPELAGO: Dynamic sunspot 963 has morphed into "a beautiful sunspot archipelago," says John Stetson of South Portland, Maine. Yesterday, working with students S. Dall and B. Morrissette, he snapped this picture: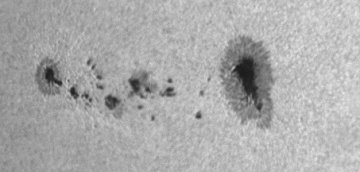 The islands in the chain are as big as planets: the large leading spot is about as wide as Neptune while the others range in size from Mars to Earth. Magnetic fields connecting the leader to the trailers are unstable and crackling with C-class solar flares. It's a good show.
UPDATE: This morning in Brazil, Rogerio Marcon used his Coronado SolarMax40 to catch the sunspot in mid-flare: photo.
more images: from Didier Favre of Brétigny sur Orge, France; from Pete Lawrence of Selsey, West Sussex, UK; from Howard Eskildsen of Ocala, Florida; from John C McConnell of Maghaberry Northern Ireland; from Curtasu Mihai of Bucharest, Romania; from Pavol Rapavy of Rimavska Sobota, Slovakia; from Ettore Ruga of Italy; from Michel Hersen of Portland, Oregon; from David Lerner of Monmouth Junction, NJ;
COMET LINEAR VZ13: On July 11th, Comet Linear VZ13 glides by Edasich, a 3rd magnitude star in the constellation Draco. Also known as iota Draconis, this star is best known for its big planet, a giant world 9 times more massive than Jupiter. Tonight, consider it a guidestar to the comet. [sky map] [3D orbit] [ephemeris]
At 8th magnitude, Linear VZ13 is too dim for the naked eye, but it materializes readily enough as a charming fuzzball in binoculars. And "it is an easy target for backyard telescopes of all sizes," reports John Chumack who sends this picture from his observatory in Yellow Springs, Ohio: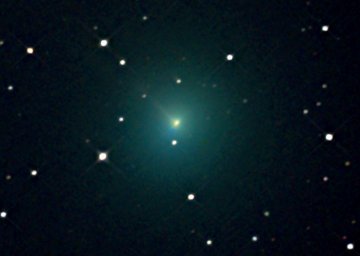 Photo details: 16-inch Newtonian telescope, SBIG ST9 CCD, 2 min. exposure
"It has a large coma and a very bright stellar nucleus," notes Chumack. "The comet's tail, however, is small and faint."
What makes the comet's atmosphere (coma) green? Answer: The coma contains cyanogen (CN), a poisonous gas, and diatomic carbon (C2). Both of these substances glow green when illuminated by sunlight--a process called "resonant fluorescence."
more images: ; from Günther Strauch of Borken, NRW, Germany; from Vincent Jacques of Breil, France; from Stanescu Octavian of Silagiu, Romania; from Dalibor Hanžl of Brno, Czech Republic; from Doug Zubenel of De Soto, Kansas.
---
2007 Noctilucent Cloud Gallery
["Noctilucent Cloud"--the song] [Night-Sky Cameras]