Where's Saturn? Is that a UFO--or the ISS? What's the name of that star? Get the answers from mySKY--a fun new astronomy helper from Meade.

GREEN COMET: Grab your binoculars. Pretty green Comet Linear VZ13 is gliding through the constellation Draco this week. It's too dim for the naked eye, but "it was quite easy to see even in a 7x35 binocular," reports Doug Zubenel of De Soto, Kansas: photo. To find the comet, go outside after sunset and face north; the comet lies just a few star hops from Polaris. [3D orbit] [sky maps: July 10, 11] [ephemeris]

more images: from John Chumack of Yellow Springs, Ohio; from Günther Strauch of Borken, NRW, Germany; from Vincent Jacques of Breil, France; from Stanescu Octavian of Silagiu, Romania;

SUNSPOT 963: Sunspot 963 is growing in size and complexity, and it now poses a threat for M-class solar flares. The spot's rapid development is shown in this two-day animation from the Solar and Heliospheric Observatory (SOHO):

"The sunspot has turned into what is reminiscent of a chain of dark islands crossing the Sun," says photographer Pete Lawrence of Selsey, UK. He took this picture just hours ago using a Coronado Ca-K filter, which traces the purple glow of solar calcium: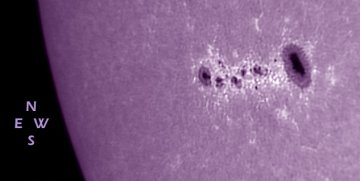 The "islands" are as big as planets: the large leading spot is about as wide as Neptune while the others measure about the size of Earth. Magnetic fields connecting the leader to the trailers are unstable and crackling with C-class solar flares. On July 7th, Larry Alvarez of Flower Mound, Texas, observed a fantastic "fire-fountain" eruption through his Coronado SolarMax90 telescope. The movie he made of the event is a must-see.
more images: from S. Dall and J. Stetson of South Portland, Maine; from Cai-Uso Wohler of Bispingen, Germany; from Rolf Girssmann of Boostedt, Schleswig-Holstein, Germany; from Pavol Rapavy of Rimavska Sobota, Slovakia; from Howard Eskildsen of Ocala, Florida; from Guenter Kleinschuster of Feldbach, Austria;
BONUS: On July 8th, the International Space Station flew almost directly in front of the emerging sunspot. David Lerner of Vincetown, New Jersey, was video recording the sun when "I saw something flash across the screen," he says. "I opened up the video file and was THRILLED to see I had captured both the ISS and sunspot 963."


Photo details: Meade 8" LX90GPS, Orion solar filter, Philips SPC900NC webcam
"Imagine my delight to later discover I captured 3 frames of the space station passing by," he adds.
more ISS transit images: from Milan Antos of Jablonec nad Nisou, Czech Republic; from Len Marek of Parma, Ohio; from Wayne Reed of Colmar, Pennsylvania.
---
2007 Noctilucent Cloud Gallery
["Noctilucent Cloud"--the song] [Night-Sky Cameras]