Where's Saturn? Is that a UFO--or the ISS? What's the name of that star? Get the answers from mySKY--a fun new astronomy helper from Meade.

GREEN COMET: Grab your binoculars. Pretty green Comet Linear VZ13 is gliding through the constellation Draco this week. It's too dim for the naked eye, but "it was quite easy to see even in a 7x35 binocular," reports Doug Zubenel of De Soto, Kansas: photo. To find the comet, go outside after sunset and face north; the comet lies just a few star hops from Polaris. [sky map] [ephemeris] [3D orbit]

more images: from John Chumack of Yellow Springs, Ohio; from Günther Strauch of Borken, NRW, Germany.

SUNSPOT 963: Over the weekend a new sunspot emerged and "it is a beauty," says Gianluca Valentini of Rimini, Italy, who photographed the active region this morning: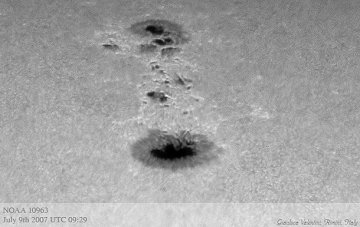 The sunspot's two dark cores are each larger than Earth, and they are connected by an unstable magnetic field that crackles with C-class solar flares. The eruptions have been entertaining onlookers. "I watched in amazement for hours as the magnetic loops swayed back and forth," says Larry Alvarez of Flower Mound, Texas. He made a movie of the action using his SolarMax90 solar telescope. Click on the snapshot to watch: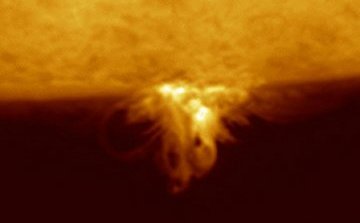 See the movie: Small (600 kb gif) or Large (6 MB avi)
Meanwhile in Zanesville, Ohio, the sunspot almost made artist Erika Rix late for her brother's wedding. "I just couldn't tear my eyes away from the eyepiece," she explains. "One eruption reminded me of a rock plopping in the water." Using Strathmore paper and white Conte' crayon, Erika sketched what she saw: image. "As a last minute gift idea, I framed the first sketch of this sequence and gave it as a wedding present....starting their new lives together with a bang."
The show continued on July 8th when the International Space Station flew in front of the sun with sunspot 963 as backdrop:


Photo details: Meade 8" LX90GPS, Orion solar filter, Philips SPC900NC webcam
David Lerner took the above photo from an abandoned driving range near Vincetown, New Jersey. "I saw something flash across the screen," he says. "I opened up the video file and was THRILLED to see I had captured both the ISS and sunspot 963. Imagine my delight to later discover I captured 3 frames of the space station passing by."
more images: from Milan Antos of Jablonec nad Nisou, Czech Republic; from Pavol Rapavy of Rimavska Sobota, Slovakia; from Howard Eskildsen of Ocala, Florida; from Len Marek of Parma, Ohio; from Guenter Kleinschuster of Feldbach, Austria; from Pete Lawrence of Selsey, West Sussex, UK; from John M Candy of Whitely Bay, north Tyneside, UK; from Jean-Marc Lecleire of Torcy, France.
---
2007 Noctilucent Cloud Gallery
["Noctilucent Cloud"--the song] [Night-Sky Cameras]