| | | |
| --- | --- | --- |
| FLYBY ALERT! Would you like a phone call when the International Space Station (ISS) is about to fly over your back yard? Sign up for Space Weather PHONE. | | |
SOLAR ACTIVITY: "Is this the last gasp of dying Solar Cycle 23? It sure looks that way," reports Paul Haese who sends a dramatic picture of the sun taken this morning from Blackwood, South Australia. Our star is criss-crossed by dark magnetic filaments and peppered with active regions that are not quite sunspots but seething nevertheless. "What a great show," he says. Readers with solar telescopes, take a look!
more images: from Pete Lawrence of Selsey, West Sussex, UK; from Stephen Ames of Hodgenville, Kentucky; from Greg Piepol of Rockville, Maryland; from Hank Bartlett of Newburgh, Ontario, Canada;
GREEN SKY ALERT: Sky watchers around the Arctic Circle should be alert for auroras. A solar wind stream is buffeting Earth's magnetic field and causing high-latitude geomagnetic storms. Last night, Sylvain Serre caught a group of teenagers posing beneath the lights of Salluit, Nunavik, Quebec: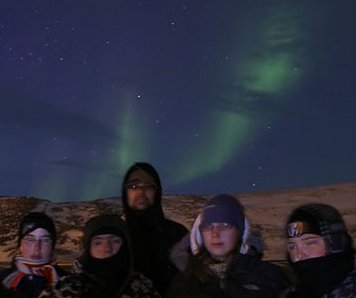 "The nordic sky is gradually getting brighter and brighter as we approach summer," adds Geir Øye of Ørsta, Norway. "However, it is still sufficiently dark at midnight to see auroras like these."
UPDATED: April 2008 Aurora Gallery
[Aurora Alerts] [Night-sky Cameras]
END OF THE RAINBOW: At long last, Lorne Thompson of Las Vegas, Nevada, has found out what lies at the end of the rainbow. It's an outhouse: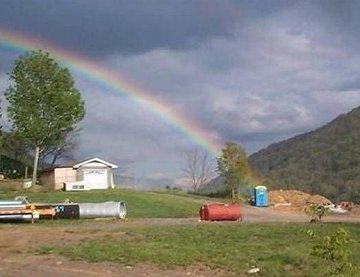 You were expecting a pot of gold?
Actually, there is no end to a rainbow. If the ground were removed, you would see that the rainbow makes a complete circle; this is called the "rainbow cone." Usually, less than half of the circle is visible because ground, hills and little blue buildings get in the way. To see more than half, go to the lofty perch of a mountaintop or an airplane. Voila!--no outhouse.