| | | |
| --- | --- | --- |
| FLYBY ALERT! Would you like a phone call when the International Space Station (ISS) is about to fly over your back yard? Sign up for Space Weather PHONE. | | |
SATURN AND REGULUS: When the sun sets tonight, go outside and look south. You'll find a pair of starry eyes staring back at you. On the left is Saturn, on the right Regulus. The ringed planet and the first-magnitude star are only 2o apart--a very pretty pair. sky map.
AURORA AUSTRALIS: A solar wind stream is buffeting Earth's magnetic field, causing not only Northern but also Southern Lights. NSF research engineer Dana Hrubes sends this picture directly from the South Pole in Antarctica: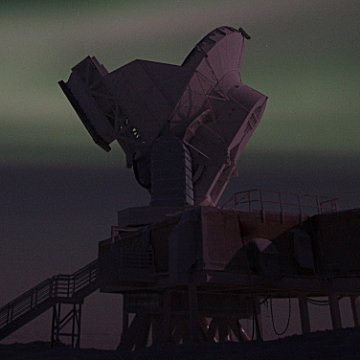 "This is aurora australis backlighting the 10-meter South Pole Telescope, which is bathed in moonlight at the geographic south pole where the sun has set for 6 months," says Hrubes.
Affectionately known as "SPoT," the telescope is dedicated to the study of cosmic microwave background radiation--the afterglow of the Big Bang itself. Researchers use SPoT to probe the origins of the Universe and gather data on mysterious dark energy. Because it is a radio telescope, SPoT is not adversely affected by the dancing lights overhead. Only the research engineers are distracted.
Sky watchers around both poles should be alert for more lights tonight as the solar wind continues to blow.
April 2008 Aurora Gallery
[Aurora Alerts] [Night-sky Cameras]
END OF THE RAINBOW: At long last, Lorne Thompson of Las Vegas, Nevada, has found out what lies at the end of the rainbow. It's an outhouse: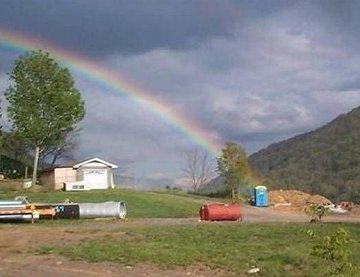 You were expecting a pot of gold?
Actually, there is no end to a rainbow. If the ground were removed, you would see that the rainbow makes a complete circle; this is called the "rainbow cone." Usually, less than half of the circle is visible because ground, hills and little blue buildings get in the way. To see more than half, go to the lofty perch of a mountaintop or an airplane. Voila!--no outhouse.
more images: from Steve Wainwright of South Wales UK; from Aslaug Ally of Ski, Norway; from Gary Shunk of Boulder, Colorado