Did you miss last night's auroras? Next time get a wake-up call from Spaceweather PHONE.
AURORA WATCH: Sky watchers from Scandinavia to Alaska should be alert for auroras tonight. A solar wind stream is buffeting Earth's magnetic field, causing mild but pretty geomagnetic storms.
3D FLYBY: Get ready to cross your eyes. On March 28th, when asteroid 2006 VV2 flew past spiral galaxy M81, two photographers on opposite sides of the USA photographed the encounter. A cross-eyed view of their photos makes the asteroid pop out in startling 3D:

(Hint: Stare at the middle of this image and cross your eyes until the two galaxies overlap. Focus on the asteroid. The longer you stare, the more pronounced the 3D sensation becomes.)
"I produced this stereogram by combining the images of William Keel in Tuscaloosa, AL, and Robert Long in Vado, NM," explains Colorado astronomer Chris Peterson. "Because the asteroid was so close (4.6 million km), and the baseline between the images so long (1780 km), the parallax between the asteroid and the background stars is significant, and the stereo effect is quite real." [more]
MOONS OF JUPITER: Friday morning, March 23rd, was "amazing," says astrophotographer Mike Salway of Australia. "The sky was clear, seeing was superb," and this is what he saw when he pointed his 12-inch telescope at Jupiter: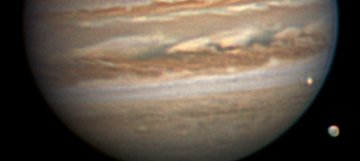 The orb at lower right is Jupiter's giant moon Ganymede, almost as large as Mars. Just above it hovers Europa, home to the solar system's largest underground oceans.
Now click on the image to set the scene in motion!
"I love watching Ganymede and Europa move across Jupiter -- they give a 3D perspective and really do appear to float above the planet," says Salway. "There's detail on Ganymede in practically every frame as well, even when it is in front of Jupiter."
Ready to see for yourself? Wake up at dawn and point your telescope south. Jupiter is the brightest "star" in the morning sky--you can't miss it.