Did you miss last night's auroras? Next time get a wake-up call from Spaceweather PHONE.
EGG MOON: According to folklore, tonight's full Moon is the Egg Moon. Go outside and take a look. You might get some good ideas for decorating Easter eggs. Craters, rays, mountain ranges--finally, you can put all those cracked shells to good use!
WEEKEND AURORAS: A solar wind stream hit Earth on April 1st, sparking a mild but pretty geomagnetic storm. Daryl Pederson took this picture from Indian, Alaska: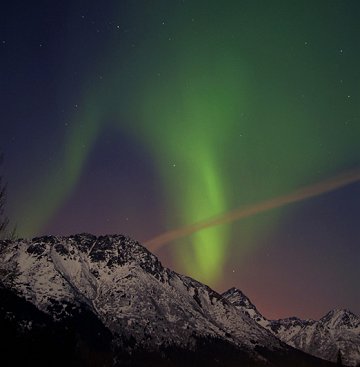 "I saw the pilot veer over to fly between the auroral arcs on his decent into Anchorage," says Pederson. "April Fools! It's just an illusion. The auroras were at least 50 miles above the airplane." Indeed, only the space shuttle can fly through auroras: full story.
More auroras are possible tonight. Earth is still inside the solar wind stream, and a good gust could spark another display.
April 2007 Aurora Gallery
[aurora alerts] [night-sky cameras]
KEEP LOOKING UP: "You never know what you'll see in the sky," says Brian Karczewski of Riverside, California. "I was at the Riverside air show Saturday when we heard on the scanner of an unidentified aircraft in the area. We looked up and caught this!"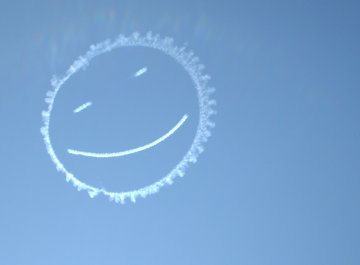 "He appears to have drawn a face, the air-boss said over the scanner. It's not astronomy, but it sure is cool."
(Actually, happy faces are a well-known and serious facet of astronomy. Examples: the happy face on Mars, the Cheshire Moon, and the circumzenithal arc.)