ISS TRANSIT OF VENUS: This has been a good week for sunset sky watchers in the USA. The International Space Station (ISS) has been flying through the evening sky, often passing beautifully close to Venus. Last night in Ocean Park, Maine, the ISS passed directly over Venus. Using a webcam and a 4-inch telescope, John Stetson made this movie of the rare transit. "Not only were Venus and the ISS very bright, but also they appeared to have the exact same angular diameter, 31 arcseconds. They were very beautiful together," he says.
COMET LULIN: Looking for Comet Lulin? Let Zubenelgenubi be your guide. Today, the comet is gliding by the double star with only 1/2-degree of sky between them. Astrophotographer Gregg Ruppel sends this image from Ellisville, Missouri: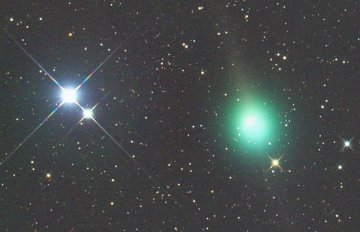 Human eyes cannot yet see Comet Lulin; the comet is a smidgen too dim. Human eyes can, however, see Zubenelgenubi; it shines about as brightly as the stars of the Big Dipper. Point your binoculars at "Zuben" and voilà!--Lulin materializes in the field of view. The star-comet combo rises in the southeast at dawn a few hours before the sun: sky map.
DISCONNECTED TAIL: On Feb. 4th, a team of Italian astronomers witnessed "an intriguing phenomenon in Comet Lulin's tail." Team leader Ernesto Guido explains: "We photographed the comet using a remotely-controlled telescope in New Mexico, and our images clearly showed a disconnection event. While we were looking, part of the comet's plasma tail was torn away."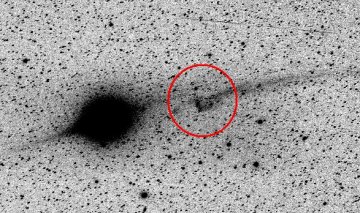 Photo credit: Ernesto Guido, Giovanni Sostero & Paul Camilleri [more]
Guido and colleagues believe the event was caused by a magnetic disturbance in the solar wind hitting the comet. It's a plausible hypothesis. Magnetic mini-storms in comet tails have been observed before--most famously in 2007 when NASA's STEREO spacecraft watched a CME crash into Comet Encke. Encke lost its tail in dramatic fashion, much as Comet Lulin did on Feb. 4th.
Browse the gallery to view the comet's tail before, during and after the disconnection event:
UPDATED: Comet Lulin Photo Gallery
[Comet Hunter Telescope] [sky map] [ephemeris]
---
February 2009 Aurora Gallery
[Previous Februaries: 2008, 2007, 2006, 2004, 2003, 2002]
---