VALENTINE'S SHOW? Arctic sweethearts, take note. A solar wind stream is heading toward Earth and it might spark high-latitude auroras when it arrives on Feb. 14th. Valentine's Day could end with a sweet display of Northern Lights: gallery.
NAKED-EYE COMET: Comet Lulin is now visible to the naked eye from dark-sky sites. "This morning, I noticed a faint smudge above Zubenelgenubi," reports Jeff Barton from the Comanche Springs Astronomy Campus in West Texas. "I then trained my 9x63 binoculars on the fuzzy patch. Yep, nailed it! I was thrilled to finally bag Comet Lulin without optical aid."
If optical aid is offered, however, don't refuse it. The view through a small telescope is dynamite: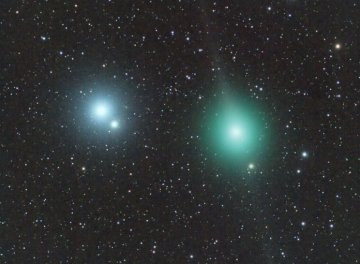 "Wow, it was nice!" says photographer Mike Broussard of Maurice, Louisiana, who took this picture of Comet Lulin gliding by double star Zubenelgenubi on Feb. 6th.
Another report of naked-eye visibility comes from Martin McKenna of Maghera, Northern Ireland: "I went out for a look at Comet Lulin this morning before dawn with my telescope and binoculars. The Moon was very low, so I stood within the shadow of my house and tried to see the comet without optical aid. Using averted vision, I was able to glimpse the comet perhaps a dozen times! It looked like a large grey patch of light very close to Zubenelgenubi. The sight gave me a warm glow on such a frigid frosty night."
Comet Lulin rises in the east just a few hours before the sun. See for yourself: sky map.
UPDATED: Comet Lulin Photo Gallery
[Comet Hunter Telescope] [sky map] [ephemeris]
ICY CORONA: Colorful lunar coronas are formed by spherical droplets of water in clouds. Moonlight hits the liquid droplets and diffraction does the rest. At least, that's how it's supposed to work....
Last night, Prof. Joseph Shaw of Montana State University looked up and saw a lovely corona circling the Moon--but something was not quite right. The cloud that caused the display seemed too high and cold for water droplets. More likely, Shaw figured, it was a cloud of ice, and to test his hypothesis, he shined a laser into the heavens: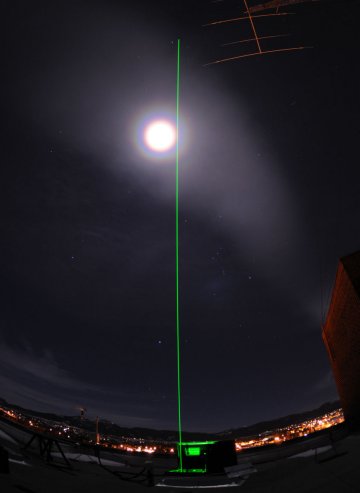 The timing and polarization of the laser's reflection revealed the cloud's altitude and composition. Just as Shaw suspected, it was high (7.5 - 10 km) and contained an abundance of ice crystals. Sharp-edged specks of ice, not spherical droplets of water, must have produced the corona.
"Ice crystals in clouds are usually much too large to produce visual diffraction patterns," says Shaw. "However, this was a special type of cloud--a 'wave cloud' created when air oscillates after flowing over mountains such as those that surround my town, Bozeman, Montana. Wave clouds have been found to sometimes contain little tiny ice particles created when liquid droplets freeze so quickly they have insufficient time to grow into large ice crystals."
The crystals in this particular wave cloud were 10 to 20 microns in diameter--perfect for making the corona Shaw observed.
"We are funded to measure clouds, aerosols and atmospheric radiation for climate studies," says Shaw. "Often I get to do studies like this when I recognize the opportunities that Mother Nature presents."
---
February 2009 Aurora Gallery
[Previous Februaries: 2008, 2007, 2006, 2004, 2003, 2002]
---