Where's Saturn? Is that a UFO--or the ISS? What's the name of that star? Get the answers from mySKY--a fun new astronomy helper from Meade.

MERCURY FLYBY: Last week's historic flyby of Mercury by NASA's MESSENGER spacecraft gathered 500 megabytes of data and more than a thousand high-resolution photos covering nearly six million square miles of previously unseen terrain. "Discoveries are at hand," say members of the mission science team. Click here for a hint of things to come.

FULL MOON FUN: There's a full Moon tonight and its a beautiful sight. But don't just stand there staring. Shoot some hoops!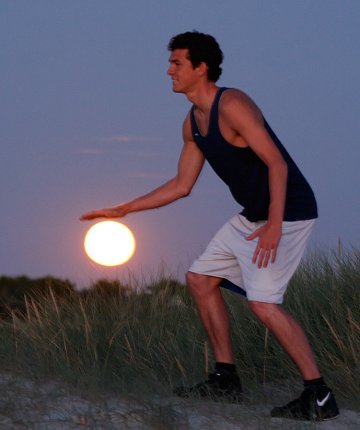 The rising full Moon is round and orange, points out photographer Laurent Laveder of Tréguennec, Bretagne, France. "Last July we found a professional basketball player, Mathieu Tensorer, who helped us take a few pictures for our 'Playing with the Moon' series," he says. "I used a Canon 30D at ISO 1000 for this 5.6 second exposure."
more images: from P-M Hedén of Stockholm, Sweden; from Judy Parker of St. Paul, Minnesota; from Jeffrey Berkes of West Chester, PA; from Doug Zubenel of De Soto, Kansas; from Eugene Miller of Brooklyn, New York; from Michel Hersen of Portland, Oregon;
SUNSET PLANET: When the sun goes down tonight, step outside and face west. Weather permitting, you'll see Mercury beaming through the twilight.
"The light of a nearly full moon blended with twilight to provide an eerie scene as Mercury set in the WSW at 6:17 p.m.," says Gary A. Becker of Coopersburg, Pennsylvania, who took this picture on Jan. 21st: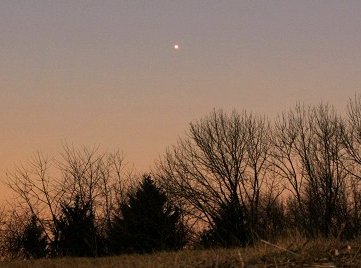 This is a special week for Mercury: the planet is normally hidden in the glare of the sun, but on Jan. 21-22 it reaches a maximum elongation of 19 degrees. This sun-Mercury gap allows the planet to linger in the western sky for about an hour after the sun has set. Take a look!
more images: from Ugur Ikizler of Mudanya - Bursa / Turkey; from Martin McKenna of Maghera, Co. Derry, N. Ireland; from John Boudreau of Saugus, Massachusetts; from Khosro Jafari Zadeh of Ahvaz, Iran; from Kevin Witman of Cochranville, PA;