Where's Saturn? Is that a UFO--or the ISS? What's the name of that star? Get the answers from mySKY--a fun new astronomy helper from Meade.

MERCURY FLYBY: Last week's historic flyby of Mercury by NASA's MESSENGER spacecraft gathered 500 megabytes of data and more than a thousand high-resolution photos covering nearly six million square miles of previously unseen terrain. "Discoveries are at hand," say members of the mission science team. Click here for a hint of things to come.

MOTHER OF PEARL! This weekend, Scandinavians witnessed a veritable storm of nacreous clouds. "It was a stunning display," says Håkon Dahle who snapped this picture from Fjellhamar, Norway: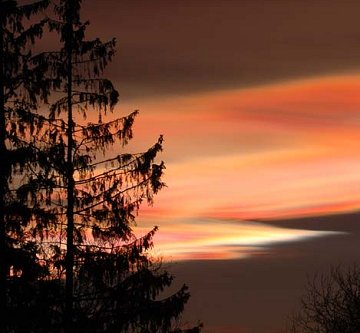 Photo details: Nikon D70, ISO 200, 1/60s exposure
"The show lasted about an hour," adds Johannes Lillegaard Frøyen of nearby Oslo. "I was walking along a frozen lake. The clouds were so bright, they reflected from the ice and made the solid lake resemble a wavy ocean. I took these pictures using my Nikon D70."
Nacreus clouds--also known as "Mother of Pearl" clouds--exist way above ordinary clouds and weather at altitudes 9 to 16 miles high. Their tiny ice crystals, which give them their iridescent colors, need exceptionally low temperatures of minus 85 Celsius (-120 F) to form. Because of these extremes, nacreus clouds are rare. Nevertheless, they have appeared two nights in a row over Scandinavia, raising hopes for more tonight. Photographers, ready your cameras!
more images: from Kalinka Irina Martín Iglesias of Tunhovdfjorden, Buskerud, Norway; from Tor Einar Aslesen of Oslo, Norway; from Ragnar Johnskås of Ringsaker, Norway; from Lars Helge Stølen of Sande i Vestfold, Norway; from David Milton of Angered, Sweden; from Morten Ross of Sandbukta, Norway; from Derick Rethans of Skien, Telemark, Norway; from Toby Rutland of Gothenburg, Sweden.
HOLMES AND ALGOL: Moonlight may spoil the show, but for astrophotographers with clear skies, it's worth a shot: Comet 17P Holmes is passing directly in front of variable star Algol. Tom J. Martinez of Cleveland, Missouri, photographed the pair converging on Jan. 14th: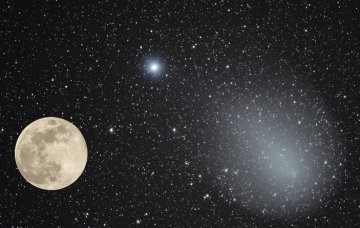 Full Moon inserted to show the angular scale of the comet: photo details.
Tonight, Algol shines through some of the thickest parts of the comet's atmosphere, prompting reader Doug Zubenel to wonder "will we see a halo around Algol?" Here on Earth tiny grains of dust and crystals of ice in the air produce halos around bright stars and planets. Perhaps comet dust will do the same to Algol.
Probably not--but its something fun to look for on a cold moonlit night. After sunset, slew your telescope to Algol and let the hunt begin: sky map.
Comet 17P/Holmes Photo Gallery
[World Map of Comet Sightings]
[sky map] [ephemeris] [3D orbit] [comet binoculars]