SOLAR ACTIVITY: There are no spots on the sun, but that doesn't mean solar activity is nil. A massive prominence is dancing along the sun's northeastern limb, putting on a lively show for backyard solar telescopes. Images: #1, #2.
NORTHERN LIGHTS: A minor solar wind stream hit Earth's magnetic field on Jan. 18th. The impact was weak, but it nevertheless sparked bright auroras over parts of the Arctic Circle. A spaceweather reader took this picture from the cockpit of an airplane 33,000 feet above Canada: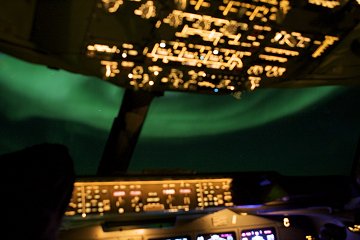 "It was a very big display," he says.
Another solar wind stream is heading for Earth and it could spark a new round of lights over the arctic when it arrives on Jan. 25th or 26th. High-latitude sky watchers should be alert for auroras.
Jan. 2009 Aurora Gallery
[Previous Januaries: 2008, 2007, 2005, 2004, 2001]
MORSE CODE, SIRIUS-LY! "Something amazing happened last night," reports astronomy professor Jimmy Westlake of Steamboat Springs, Colorado. "As I was shooting a star trail picture of the sky's brightest star, Sirius, it flashed out a message on the film! How's your International Morse code?" (continued below)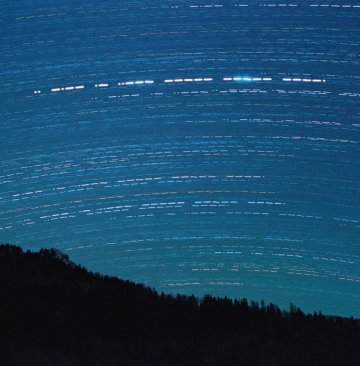 "This is actually a series of 28 separate exposures on one piece of film. The 'dots' are 30-second exposures; the 'dashes' are 3-minute exposures. The 'shutter' creating the gaps was my shivering, gloved hand held over the lens in the 0ºF Colorado air. The entire message required just under two hours to record. Every few minutes, I had to turn on a blow dryer to keep the frost from forming on the lens--and me!"
"Give up? Apparently, the Universe is announcing the arrival of the
International Year of Astronomy 2009!" The message reads:
| | | | | | | |
| --- | --- | --- | --- | --- | --- | --- |
| .. | -.-- | .- | ..--- | ----- | ----- | ----. |
| I | Y | A | 2 | 0 | 0 | 9 |
---
---
Comet Lulin Photo Gallery
[sky map] [Comet Hunter Telescope]