SPACE STATION DAWN: For the next few mornings, the International Space Station (ISS) will be flying over Europe and North America, cutting a bright path among the stars just before sunrise. Check the Simple Satellite Tracker to find out when to look; it's a nice way to start the day.
SOLAR ACTIVITY: Warning. This story contains material that may make you feel very small.
For the past two days, a colossal prominence has been dancing along the northwestern limb of the sun. "Here's a photo from Aug. 27th," offers Pete Lawrence of Selsey, UK. "The Earth has been added for scale."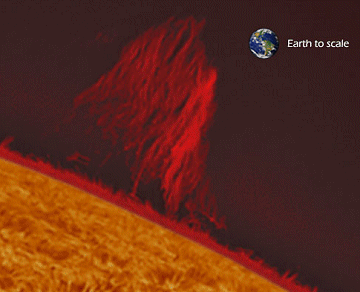 "It does makes you feel small, doesn't it?"
Lawrence's photo frames a towering sheet of hydrogen gas stretched 75,000 km high by solar magnetic fields. The foreground is filled by a "shag carpet" of spicules--Texas-sized jets of gas that shoot up from the sun's surface and fall back again on 10 minute time scales. Spicules are the smallest thing in the photo and they're as big as Texas. Have you ever driven across Texas?
The prominence is still active today and makes an easy target for backyard solar telescopes. Take a look, that is, if you can reach the eye piece.
more images: from J. Fairfull and John Stetson of South Portland, Maine; from Stephen Ames of Hodgenville, Kentucky; from James Kevin Ty of Manila, the Philippines; from Roger G. Williams of Kalamazoo, Michigan; from B. Atkins et al of South Portland, Maine; from Pavol Rapavy of Rimavská Sobota, Slovakia
VOLCANIC SUNSETS: Volcanoes have been erupting in Alaska, and now sunsets are turning campfire-red across the continental United States. Coincidence? Kansas photographer Doug Zubenel calls this snapshot The Colors of Kasatochi: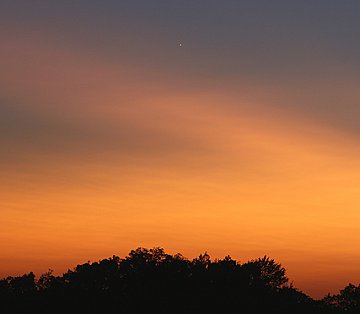 "I've been seeing these incredible sunsets since last Friday," says Zubenel. High resolution photos (#1, #2) reveal the source: a high-altitude layer of finely-structured aerosols. "A rich orange develops as the sun sinks toward the horizon and Venus sports a red annulus."
"Doug's skies were probably generated by the recent eruptions of Kasatochi and two other volcanoes in Alaska's Aleutian Islands," says atmospheric optics expert Les Cowley. "Volcanic eruptions hurl gigantic clouds of fine dust and sulfur dioxide into the stratosphere where high winds spread them around the globe. Sulfur dioxide forms aerosols; these and the dust scatter sunlight to give us red skies, twilight rays and Bishop's rings. I'm getting many reports of unusual sunsets – look up!"
more images: from Doug Zubenel of Lenexa, Kansas; from Tadd Parris at the Minneapolis International Airport; from Rick Stankiewicz of Ontario, Canada; from Bill Hooker of Flagstaff, Arizona; from Gary Colwell of Ontario, Canada; from Paul Hadfield of Decatur, Illinois; from Linda Neilsen of Kent, Washington; from Dick McGowan of Olathe, Kansas; from Jeff Stevens of Grass Lake, Michigan; from Misty Lundberg of Princeton, Indiana; from Edmund E Kasaitis of Manchester, Maryland; from Doug Zubenel of De Soto, Kansas; from Dan Bush of Albany, Missouri; from Karla Dorman of Burleson, Texas;
---