GAMMA-RAY BURST SMASHES RECORD: A gamma-ray burst detected by NASA's Swift satellite has smashed the previous distance record for the most powerful explosions in the Universe. Researchers are calling it "an incredible find" and a "true blast from the past." Get the full story from Science@NASA.
SEVENTEEN MINUTES: With a waistline one hundred times wider than Earth's, the sun is so big and ponderous, you might not think it could move very quickly. But it can. Click on the image to see how much things can change in just 17 minutes: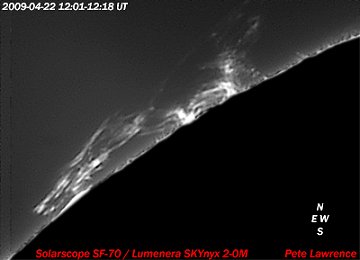 "A huge amount of motion is visible over a very short interval of time," says Pete Lawrence who made the movie on April 22nd at his backyard observatory in Selsey, UK. "The prominence underwent many changes of form and at one point I could see real time movement as I watched the action on my computer screen."
Less than 24 hours later, Lawrence's prominence exploded and hurled a billion-ton cloud of gas away from the sun at nearly a million miles per hour: SOHO movie. That's moving. Readers, if you have a solar telescope and 17 minutes of spare time ... you know what to do.
ZENITH HALO: "April 26th is the day here in Guam (13.5o N) that the sun passes directly overhead at local noon," says Tom Wittman of Andersen Air Force Base. "When the time came, I stepped outside and was treated to a beautiful ice halo." This photo, he says, was taken at the exact moment the sun reached zenith: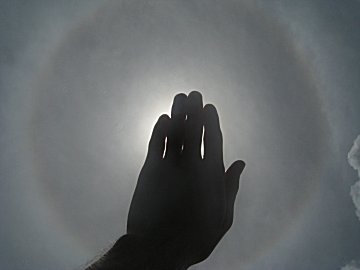 Zenith suns are not required for ice halos, but they make good ones: The Guam display is probably a combination of a 22o halo and a circumscribed halo, two halos that overlap for maximum luminosity when the sun is directly overhead.
"Later in the summer, as the sun returns south from the Tropic of Cancer, the islanders here in Guam will be treated to another zenith sun," adds Wittman. "I wonder what optical extra may make an appearance then?" Stay tuned.
---
April 2009 Aurora Gallery
[previous Aprils: 2008, 2007, 2006, 2005, 2004, 2003, 2002]
---