| | | |
| --- | --- | --- |
| BEHOLD THE SUN: Would you like to see fiery prominences and new-cycle sunspots with your own eyes? On sale now: Personal Solar Telescopes. | | |
AURORA FORECAST: A solar wind stream is heading for Earth and it could spark a geomagnetic storm when it arrives on Oct. 28th. Sky watchers around the Arctic Circle should be alert for auroras.
SPLIT SUN: Walking along Ocean Beach in San Francisco on October 23rd, photographer "Jon" watched in amazement as the sun split in two: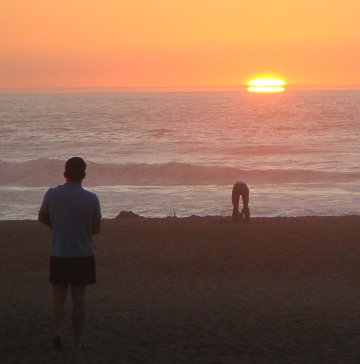 "What was it?" he asks. "A fog bank?" No, it was a garden-variety California mirage.
Atmospheric optics expert Les Cowley explains: "The California Coast is such a fertile place for sunset mirages, it is a wonder that it has any 'normal' ones! To form mirages like this you need air cooled by contact with a cold ocean current topped by warmer air from the land – a temperature inversion. The junction of the two air masses is the dark line above the horizon. The sun's rays are curved by passage between the layers to form the multiple images, two setting and one even rising!"
METEOR RAIN: "How many meteors can you count in these pictures?" asks Pierre Martin of Ottawa, Ontario. Answer: 16. "Those are the Orionids I saw on Oct. 23rd. Even two nights after the peak, the shower was still going strong!"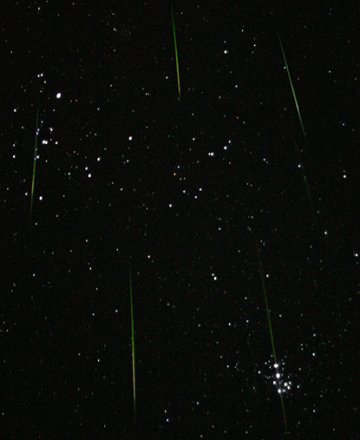 The beautiful flurry commenced on Oct 21st when Earth passed through a stream of debris from Halley's Comet. Meteors flew out of the constellation Orion in numbers exceeding 40 per hour--about twice the usual rate. This is the third year in a row the Orionids have surged in this fashion, suggesting a trend. "I'm sure that meteor enthusiasts around the world are looking forward to next year's display," says Martin. Mark your calendar: Oct. 21, 2009.
UPDATED: 2008 Orionid Meteor Gallery
[IMO meteor counts] [2006 Orionids]